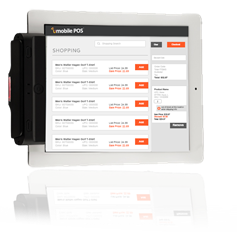 uMobile POS includes an endless aisle capability that increases sales and improves the consumer experience.
Pittsford, NY (PRWEB) June 08, 2014
UniteU, a leading omnichannel commerce platform provider and eCommerce integrator for brick-and-mortar retailers, announces the latest release of its uMobile POS™ solution. uMobile POS is a mobile point-of-sale solution that includes hardware, a mobile app and a robust commerce platform that is integrated with existing retail systems. The new offering, which includes a new sleek, customizable interface, gives retailers the line-busting features of mobile POS while fully integrating with existing inventory, accounting, point-of-sale and ERP systems. uMobile POS also delivers single-transaction checkouts for both in-store and endless aisle customer purchases—a feature that makes bundling in-store and ship-to purchases simple for consumers and sales associates (see related video for demonstration).
"Although there has been a recent expansion of mPOS offerings, retailers have really struggled with standalone mPOS solutions because the accounting, inventory management and shipping features end up being disparate," said Soumen Das, Founder of UniteU. "Retailers are then left to figure out how to align the mPOS processing information with other systems."
The new uMobile POS solution remedies the issues involved with standalone POS terminals because of the UniteU omnichannel platform, which interfaces with all the major retail platforms on the market, including Epicor, NetSuite, Retail Pro, Microsoft RMS, Microsoft Dynamics AX, JDA, CounterPoint POS, and earlier this year UniteU announced a bi-directional integration with Magento.
Because of its integration features, uMobile POS also provides a unique seamless—and incredibly easy—endless-aisle checkout solution. With the endless aisle features, sales associates can process both in-store and offsite transactions at once. When a consumer wants to purchase an item that's not in stock in-store, the sales associate can find the item online, or at another location, and add it to the shopping cart, then process both transactions at once. uMobile POS then takes care of the rest, ensuring that all the backend systems process the transaction appropriately.
"This endless aisle capability increases sales and improves the consumer experience," says Das. "Instead of leaving the store without purchasing the item they were looking for, it's now being shipped to their home, and the entire transaction takes just moments to process."
UniteU customer City Sports recently deployed uMobile POS at the John Hancock Sports & Fitness Expo during the Boston Marathon. "uMobile POS has allowed us to help Expo attendees checkout faster, but it also makes it easy for our sales associates to offer a broader range of merchandise than what we can carry in inventory here at the event," said Rob Pinto, Store Systems Specialist with City Sports.
More information about uMobile POS can be found at http://www.uniteu.com/umobilepos.aspx.
About UniteU Technologies (http://www.uniteu.com):
UniteU creates technology that allows retailers to provide a unified commerce experiences across channels and devices. UniteU offers a wide range of solutions and services including uMobile POS™ and UniteU Commerce™, a powerful eCommerce platform that embodies more than a decade of omnichannel insights and high-volume experience. Superior technology and performance has resulted in an impressive client list that includes Pharmaca, Joes Jeans, Edwin Watts Golf, City Sports and the world champion Miami Heat.