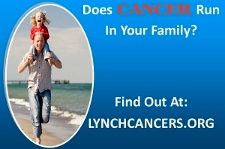 Today, we live....
Vacaville, California (PRWEB) June 08, 2014
World experts will converge on Orlando, Florida on Saturday, June 21st, presenting a one day comprehensive conference on Lynch syndrome hereditary cancers, designed for individuals and families at high risk for Lynch syndrome, physicians, nurses and genetic counselors.
Lynch syndrome, also known as LS, is a genetic condition, caused by a defective gene. Running in families, it predisposes individuals at a very high risk to a myriad of often aggressive cancers which occur at a younger than average age.
Mistakenly thought to be rare, geneticists estimate approximately 800,000 persons in the United States, alone (an average of one in every 440 persons) are affected. Unfortunately, less than ten percent of these persons are diagnosed, while tragically, many of the rest end up revolving within a never ending cycle of contracting cancer after cancer.
According to Linda Bruzzone, President of Lynch Syndrome International, an advocacy organization dedicated toward public awareness and education, it is a condition which is severely underdiagnosed.
"It has pretty much remained in the sidelines and been forgotten, while the medical community, and governmental and public health agencies have focused upon BRCA1 and BRCA2 hereditary breast cancers, even though LS is almost equal in prevalence."
Creating an extremely high lifetime risk of up to 82% for contracting colorectal cancer and 40% -60% of endometrial cancer, Lynch syndrome predisposes persons to many other cancers, including those of the gastric tract, the bladder and kidneys, the prostate, the liver, the gall bladder, the ovaries, the skin, the pancreas, the brain, and in some, the breast. Contracting cancer after cancer during their lifetime, their children face a fifty percent risk of contracting the defective gene.
"Around 44,000 Floridians are affected and of that number, approximately 40,000 don't know it. People are dying from cancers, which in many cases, are totally preventable," Bruzzone said. "It is amazing to see this occur, especially with today's medical technology and knowledge. All anyone needs to do to protect themselves and their families is know their family history of cancer and have a good physician who is informed and knowledgeable about Lynch syndrome."
Following a positive diagnosis through genetic testing, regular, comprehensive cancer screenings are offered which often detect growths, polyps and tumors, and allow for treatment or removal before cancers become life threatening. "It's the closest thing to a cure there is. In generations past, family members died. Today, we live,"
Bruzzone stated.
Lynch Syndrome International, working with Creighton University Health Sciences Continuing Education, is facilitating this all day conference, with the sponsorship of Myriad Genetics.
It is suggested individuals register by visiting their website at http://www.lynchcancers.org and following the links to the registration site. The cut-off date for registration is June 12th.
For more information, contact Lynch Syndrome International directly at 702-298-3911.