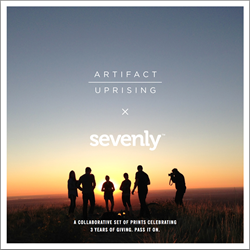 It's only right that we celebrate our birthday month, with more giving. It is still our mission to lead a generation in generosity.
Fullerton, CA (PRWEB) June 09, 2014
"America's Most Social Small Business," 2014 Mashable award winner, Sevenly, announces that during the week of June 9 - June 15, it will provide customers the opportunity to purchase updated versions of five of their bestselling designs of all time and donate all of the money to a small orphanage in Mexico, Gabriel House.
"We wanted to do something out of the box with our giving to celebrate Sevenly's birthday this year. So the team came up with the idea to choose a nonprofit that might otherwise have been too small or overlooked by traditional fundraising networks," said CEO Paul Burke.
Gabriel House, located in Maneadero, Mexico, is a nonprofit rehabilitation center for children with disabilities who have been orphaned, abandoned, or whose families are unable to take care of them. Sevenly's team recently traveled to Mexico to personally see the love in the orphanage and to serve the staff and children.
"Visiting Gabriel House was an incredible experience. We normally partner with larger charities, so it was really sweet to witness this little organization making such a huge difference in the lives of children with special needs. The staff at Gabriel House is working to redeem their corner of the world by providing dedicated care, love and protection for kids who've been abandoned. They truly reminded me of why we do what we do," says Sevenly staff, Samantha Paul.
Five of six shirts sold during the week will feature recurring designs, yet there are changes in color schemes and brand new styles and cuts. One original cause-related piece will be added to celebrate and honor the work done by Gabriel House. The donation model will stay the same, with seven dollars from every item sold going to the featured charity of the week.
In continuing the celebration of giving, they will be announcing surprises, promotions and unique collaborations, every day, all month long. They will be announced and featured on the site at 10:00am PDT every day.
To kick off the week, Sevenly is announcing a design collaboration with Artifact Uprising. Inspired to move stories off your device and into your life, Artifact Uprising creates photo books, prints and other gift items with an emphasis on beautiful design and environmental responsibility. A collaborative print set featuring 10 of Sevenly's most celebrated designs paired with photos created and printed by Artifact Uprising will be added to every Sevenly order. Together, Sevenly and Artifact Uprising invite you to share beautiful moments, impact others lives for good, and dare to dream and by doing so, change the world.
Sevenly will give a free card set to every customer that places an order this week. The company also is launching its new "Who We Are" video and will announce special giveaways with fellow social good partners: Pura Vida, The Giving Keys, Matterial Fix, and WoodSnap with more surprises throughout the month.
"Every year, every day, we want to take the time to reflect and make sure that we are continuing to believe in our motto, 'People Matter,'" said Burke. "This month of raising money for well-deserved charities and exciting our customers with giving back to them shows our dedication to Sevenly's continued effort of making a real difference in our world."
Sevenly's campaign for world change was launched in June 2011 to raise awareness and funding for the world's greatest causes. Each week, Sevenly launches a campaign with another charity to sell shirts specifically designed for their cause, with $7 dollars from each unit sold donated to the charity. The company is increasing awareness, funding and following for charities that are changing peoples' lives every day on every continent. In their first 3 years, they have raised $3.6 million and changed more than 1 million lives. To learn more about Sevenly, visit http://www.Sevenly.org.