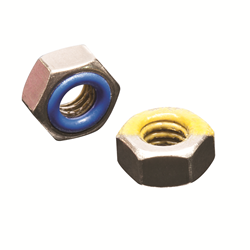 With ZaGO's sealing and locking nuts you get a 2-in-1 value added product in a single-piece design.
Newark, New Jersey (PRWEB) June 12, 2014
ZaGO's hex sealing nuts now come with nylon patch as an extra added value. In many applications, sealing and locking go hand in hand; one does not replace the other. When you need to seal in/out liquids or gasses and at the same time resist vibration; your application would benefit from ZaGO's sealing and locking nuts.
With ZaGO's sealing and locking nuts, you get a 2-in-1 value added product in a single-piece design. They block air, liquid, dust and other contaminants with a special defensive rubber, while resisting vibration with the patch locking element.
ZaGO manufactures these nuts with a groove to capture an o-ring, transforming an ordinary nut into a sealing nut with full metal-to-metal contact. The sealing nuts are then put through a second process where a nylon patch is permanently spray bonded onto the threads creating a locking element to withstand vibration.
In cases of severe pressure, ZaGO's self-sealing nuts offer the ultimate sealing protection. ZaGO's self-sealing nuts can withstand extreme conditions thanks to their unique design which features a rubber layer on the face of the nut. ZaGO's seal nuts include a built-in "O" ring which has the power to seal in/out elements. For high pressure applications, in terms of functionality, sealing nuts are far from ordinary pieces of hardware.
Special Features Include:

Sealing water/moisture, air, dust, liquids, and other contaminants either in or out through the thread or bearing face
Reducing noise and vibration
Do not require any special installation
Metal-to-metal contact
No maintenance/re-tightening needed
Reusability
Markets Served
A wide spectrum of industries benefit from ZaGO's sealing nuts including, marine/boating (NEMA enclosures and electrical panels), heavy equipment (off-road and agricultural vehicles), automotive (gear boxes, shock absorber and hydraulic pumps), alternative energy (wind turbines and solar panels), medical (pressure sensors, portable instruments and test equipment) and military & aerospace (robotics, off-road vehicles and tankers).