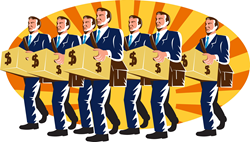 Detroit, Michigan (PRWEB) June 09, 2014
Since the Great Recession of 2008, consumers and business owners have found their credit lines all but frozen or even closed by their banks. But recently there are signs that the credit pendulum is swinging back now that real estate values are starting to increase in many areas of the country. The Wall Street Journal reported the noticeable increase in equity loans in their May 2014 article, "Borrowers Tap Their Homes at a Hot Clip". Lenders are creeping back –looking to tap into newly revealed real estate equity. Consumers and business owners are looking for ways to consolidate debt with an equity line of credit ("ELOC") What a perfect opportunity...or is it? Here are 4 things to consider before taking an ELOC from reinvigorated banks:
1. New Exposure. Proponents of consolidating credit card debt and other personal loans with an ELOC like to state that consolidation improves one's credit score because it provides regular fixed monthly installment payments while reducing monthly outlay. True, installment loans and ELOCs are treated more favorably by credit bureaus, but an ELOC is secured by the equity of collateral such as a car, business assets, or most importantly, real estate. Credit cards and personal loans do not secure collateral and therefore, in the event of a default, significant assets such as real estate or a car are not at risk. Borrowers increase the exposure of their assets to collection by using an ELOC.
2. New Tripwires. Banks and lenders experienced huge losses with ELOCs in the recent past and have "tightened -up" their lending agreements since 2008. The newer line of credit agreements contain more restrictive default provisions. For instance, a bank can freeze a credit line or call your obligation due in the event of a "global default". This means that even though one is current on payments with their line of credit, a default on any other credit cards or obligations can trigger a "default tripwire'. For those borrowers who say that would never happen to them, consider the past 6 years.
3. More Restrictions. ELOCs contain balloons. This means that while monthly payments on an ELOC can be spread out over 240 months (20 years) or 360 months (30 years), the loan balance is due in 60 months or five years. Proponents of ELOCs state that by consolidating loans with a ELOC, debtors can pay off their loans faster by having a fixed payment over a fixed time period. But balloon payments prevent the loan from fully amortizing and, as explained earlier, banks can call these loans due even earlier, creating more financial difficulty for the borrower. If the main purpose of taking out an ELOC is to consolidate credit card debt, consider other options for paying down credit card balances.
4 . Federal Student Loans. When consolidating federal student loans into an ELOC, or for that matter into a private student loan, debtors will lose certain protections such as a graduated loan repayment, forbearance, or deferment. However, federal student loans are not discharge-able in a bankruptcy, where as consolidation loans, (secured or unsecured) can be discharged. Take note that in the event of a default, no matter how the loan is categorized (secured or unsecured, federal or private) most good lenders are motivated to collect repayment, and so provided that a debtor has a temporary hardship, they should consider payment arrangements or a forbearance agreement.
As with all bank loans, terms and provisions that control the lending relationship are recited in a loan agreement. Before signing, read and understand the agreement. Loan agreements by their very nature are long and the terminology is foreign to most borrowers. Get an explanation about your obligation from an objective third party – namely an attorney experienced in lending law. There is an adage, "if you think hiring a professional is expensive, wait until you hire an amateur". If the consolidation effort ever goes bad, be assured that the debtor will be called upon to pay.
About the Author: Since 1990, David Soble has represented lenders, loan servicers, consumers and business owners on residential and commercial real estate, finance and compliance issues. He has been involved in thousands of real estate transactions, being responsible for billions in real estate loan portfolios throughout his career. He has over 24 years of real estate and lending law experience to support his tempered cynicism.
Disclaimer: You should not rely or act upon the contents of this article without seeking advice from your own, qualified attorney.