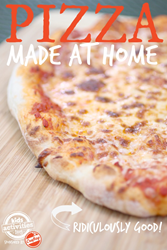 Make pizza with the kids tonight.
Dallas, Texas (PRWEB) June 22, 2014
In need for a family dinner recipe? Homemade restaurant style pizza and fun math ideas have been released on Kids Activities Blog. Get creative with the kids and make pizza at home.
Simply follow the easy American style Neapolitan pizza dough recipe on Craftsy online classes. These classes break down step by step the dough making process.
Ingredients needed are bread flour, salt, yeast, water, sugar and olive oil. Mix the ingredients and let the dough rest. Then stretch and fold the dough several times over the next half hour for the best dough texture.
Let the dough rest in the fridge until about 90 minutes before baking. Prepare homemade tomato sauce, garlic rub, or basil pesto to put on the pizza. As an alternative, simply choose the families favorite tomato sauce from a jar.
Then choose low-moisture cheeses to top the pizza. Bake according to the instructions and enjoy watching the kids and even Dad taking seconds or thirds during dinner time.
Math games are a great way to practice math skills while having fun. There are plenty of ways to start introducing kids to math skills without using a workbook. The math games provide a fun way to keep up math skills during the summer break.
Among the many ideas are outdoor skip counting games, ping pong counting, number bowling, and a ladybug math game.
A candy kisses game will delight the younger and older math enthusiasts. A Lego baseball game is fun for boys and girls. Ring toss, math flower power, and a domino game is great for the younger ones.
Multiplication apps are great for kids on the go. A DIY math puzzle is both fun to make and play on the kitchen table.
For detailed instructions and to get additional fun ideas, check out Kids Activities Blog this week. Come get inspired to let the kids have a blast this summer.
About Kids Activities Blog
Kids Activities Blog is a website created by two moms (who collectively have 9 children), Holly Homer and Rachel Miller. Their new book was published this spring by Page Street, 101 Kids Activities That Are the Bestest, Funnest Ever! Kids Activities Blog is an interactive website that publishes fun things to do with kids twice a day. It is an amazing resource for moms, dads, grandparents, caregivers and teachers to find kid-friendly activities that create memories and sneak learning into the fun.