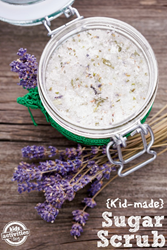 Kids will love to make lots of sugar scrub jars.
Dallas, Texas (PRWEB) June 20, 2014
Kids love to mix things. A fun gift kids can make all by themselves and a gallery of homemade paint recipes have been released on Kids Activities Blog. Let the kids make sugar scrub for a loved one.
Set up a sugar scrub station for the kids in the kitchen. Sugar scrub is really simple to make and a lovely way to pamper a loved one.
Materials or ingredients needed to make a sugar scrub are a jar, sugar, oil, and a variety of essential oils such as a lavender or vanilla oil. Food coloring is optional.
Let the kids measure all ingredients according to the recipe on Kids Activities Blog. Let them mix them up in a bowl with a wooden spoon.
If desired let them add a few drops of food coloring to ensure that the scrub is only tinted. This ensures that the scrub does not color the skin.
Pack the sugar mix tightly into a jar. Decorate the jar with a ribbon and add a label. The cute kid made present is ready for anyone who needs a pick me up.
Making spicy paint is perfect for kids who like to explore different smells. Begin by going on a color and scent hunt with the kids in the kitchen.
Gather powdered coffee, turmeric, cinnamon, frozen cranberries, blueberries, and powdered wheat grass onto the kitchen table. Please note that these ingredients are only suggested items.
Measure and mix about 1 teaspoon of hot water to one teaspoon of dry spice for any dry ingredient. Then let the mixture sit for about 10 minutes before painting.
For the wet ingredients, such as the berries, simply mash them until wet and pulpy. Let the kids have a blast coloring with these amazing homemade paints.
For detailed instructions and to get additional amazing ideas, check out Kids Activities Blog this week. Come get inspired to have a blast this summer.
About Kids Activities Blog
Kids Activities Blog is a website created by two moms (who collectively have 9 children), Holly Homer and Rachel Miller. Their new book was published this spring by Page Street, 101 Kids Activities That Are the Bestest, Funnest Ever! Kids Activities Blog is an interactive website that publishes fun things to do with kids twice a day. It is an amazing resource for moms, dads, grandparents, caregivers and teachers to find kid-friendly activities that create memories and sneak learning into the fun.