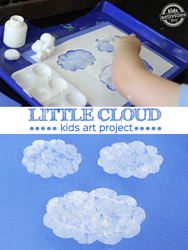 Instead of using paint brushes, check out cotton balls to paint with.
Dallas, Texas (PRWEB) June 14, 2014
Cloud art is fun, simple, and amazing. Cloud art and a laundry list of hacks for the home have been released on Kids Activities Blog. Instead of using paint brushes, check out cotton balls.
The fun cloud art was inspired by the book Little Cloud written by Eric Carle. It's about all the different shapes one can see when looking at the clouds and using the imagination.
Instead of using the usual paint brush, opt for painting with cotton balls. It was the perfect tool for creating a fun cloud-like texture.
Materials needed are blue paper, white paper, cotton balls, and a cloud template. Begin by printing out the cloud template published on Kids Activities Blog.
Cut out each of the three clouds from the template. Tape the three clouds onto blue paper to create the sky.
Then let the kids have a blast dipping the cotton balls into white paint and dabbing them all over the open blue space under the template. Ready is the amazing cloud picture.
Moms need tips and tricks that keep the household safe and sane. A few tips can even make life a bit easier.
Consider making a stackable couch out of foam sheets and pillows. This idea is perfect for sleepovers or entertaining a bunch of kids.
Another ingenious idea is to burry the trampoline in the yard. Keep the kids safe by putting the trampoline on the grass level. Potential hazards are a lot minimize with this great idea.
Making labels on drawers will help kids to keep their clothes in the right spots. No more hunting the house for that particular pair of shorts.
Keep doors unlocked with an easy rubber band trick. Making a meal calendar will keep the family budget in check. Transform a play pen into an outdoor wonder yard. Simply place a sheet onto the pen to keep the little one safe from bugs and the sun and let him or her watch while Mom is gardening. The list is endless.
For detailed instructions and to get additional fun ideas, check out Kids Activities Blog this week. Come get inspired to have a blast together with the kids this summer.
About Kids Activities Blog
Kids Activities Blog is a website created by two moms (who collectively have 9 children), Holly Homer and Rachel Miller. Their new book was published this spring by Page Street, 101 Kids Activities That Are the Bestest, Funnest Ever! Kids Activities Blog is an interactive website that publishes fun things to do with kids twice a day. It is an amazing resource for moms, dads, grandparents, caregivers and teachers to find kid-friendly activities that create memories and sneak learning into the fun.