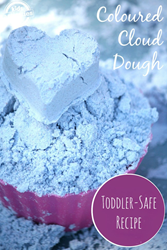 Make amazing cloud dough that even adult hands cannot resist playing with.
Dallas, Texas (PRWEB) June 10, 2014
Cloud dough is amazing. Toddler safe cloud dough and easy family dinner recipes have been released on Kids Activities Blog. Make an amazing sensory experience station for the kids this summer.
The cloud dough is safe for toddlers who aren't yet past the stage of putting things in their mouths. This recipes swaps out the baby oil with an alternative ingredient that still keeps up the constancy and color of the finished dough.
Ingredients needed to make the dough are 8 cups of flour, 1 cup vegetable oil, and a heaping tablespoon of non-toxic Tempera paint powder. Materials needed are a large mixing bowl, a potato masher or pastry cutter and wooden spoon.
In a large bowl, stir together the vegetable oil and flour. Then add the Tempera paint. Give it another stir. Then use a pastry cutter or potato masher to mix the dough for several minutes until the colour is uniform and the ingredients are soft, silky and well-mixed.
Ready is the amazing cloud dough that even adult hands cannot resist touching. Try it.
The easy dinner recipe can be made in less than 3 minutes. It is made in a slow cooker and very forgiving on how long one leaves it to cook. Once the meal is complete it is very easy to turn into 3 different dinners.
The 2 ingredients are fresh salsa or pico de gallo and chicken breasts. Place the chicken breasts in the slow cooker for the day at low or for the afternoon at high. If the salsa isn't very juicy or when using pico de gallo, add some water to cover the bottom of the slow cooker about 1/2 inch deep.
Once the chicken is full cooked, there are three serving options. Either serve the chicken breast and salsa with a rice or potato side dish, or shred the chicken and make chicken tacos. Another option is to turn the chicken breast into a delicious chicken nacho dinner.
For detailed instructions and to get additional ideas, check out Kids Activities Blog. Come get inspired to have a blast together with the kids this summer.
About Kids Activities Blog
Kids Activities Blog is a website created by two moms (who collectively have 9 children), Holly Homer and Rachel Miller. Their new book was published this spring by Page Street, 101 Kids Activities That Are the Bestest, Funnest Ever! Kids Activities Blog is an interactive website that publishes fun things to do with kids twice a day. It is an amazing resource for moms, dads, grandparents, caregivers and teachers to find kid-friendly activities that create memories and sneak learning into the fun.