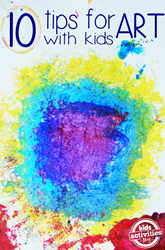 Get super organized before the kids arrive.
Dallas, Texas (PRWEB) June 09, 2014
Art projects can get messy. Real messy. Group art tips and giant paper pinwheels have been released on Kids Activities Blog. Moms have compiled a laundry list of tips to avoid the huge mess that follows a fun art project with a group of kids.
Making sure that supplies are easy reachable during the project is one idea. Also, keep the tub of water to rinse hand and feet close by. Do not let the kids wander off during the art project.
Choose the art project wisely depending on the age of kids. Ensure that each kid has their own paper plate with paint and make the paint palettes ahead of time.
Get the whole room organized to avoid looking for items during the project. Put the paint and water cup by the kid's dominate hand. If this is not done, the kids will reach over their project and can easily mess up the art work.
Summer would not be summer without colorful pinwheels spinning in the breeze. The essence of color popping pinwheels is the strong color contrast.
To make the colorful paper glue contrasting wrapping paper on the paper. One idea is to let the kids paint, stamp, or draw on craft paper to add a gorgeous individual art patterns to each pinwheel.
Another great tip is to layer rows of washi tape or duct tape on the craft paper to add contrast.
Download and print out the pinwheel template from Kids Activities Blog. Put the template on the colorful homemade paper and cut the corners. Punch holes according to the instructions.
Bend and glue each corner to the middle. Make sure that the holes are lined up. To make a stick and spinning mechanism for a small palm size pinwheels just bend a pin and stick it in to the top of a pencil eraser.
For the giant pinwheels use a wooden rod, eraser, pin and button and follow the instructions and Kids Activities Blog. Ready are the cool pinwheels.
For detailed instructions and to get additional ideas, check out Kids Activities Blog this week. Come get inspired to let the kids have a blast this summer.
About Kids Activities Blog
Kids Activities Blog is a website created by two moms (who collectively have 9 children), Holly Homer and Rachel Miller. Their new book was published this spring by Page Street, 101 Kids Activities That Are the Bestest, Funnest Ever! Kids Activities Blog is an interactive website that publishes fun things to do with kids twice a day. It is an amazing resource for moms, dads, grandparents, caregivers and teachers to find kid-friendly activities that create memories and sneak learning into the fun.