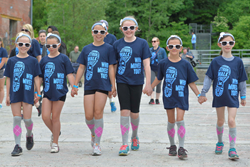 Toronto, Ont. (PRWEB) June 09, 2014
Thousands of Canadians turned out Sunday in over 25 communities across Canada to raise funds for The Arthritis Society in the 5th annual Walk to Fight Arthritis, in response to the question: "Who Moves You?"
Arthritis affects people of every age, from every walk of life. One in six Canadians lives with the pain of arthritis today. Two thirds of people living with arthritis are of working age, and some 24,000 children and teens are affected.
"Whoever we are, wherever we live, arthritis has changed the life of someone we know, someone we care about, in ways we may not even realize," said Janet Yale, president and CEO of The Arthritis Society. "Arthritis touches everyone. That's why today is the most important event on the arthritis calendar: not only is the Walk the single largest fundraising event supporting the work of The Arthritis Society, it celebrates the connections between us and lets people living with this disease know they're not alone."
Over its five-year history, The Arthritis Society's Walk to Fight Arthritis has raised $6.8 million dollars in support of programs, research and services for over 4.6 million Canadians living with arthritis. In this year's family-friendly event, 10,000 participants helped raise $1.2 million in over 25 cities across the country in support of The Society's urgent mission.
"Who doesn't know someone who has arthritis?" said Lloyd Robertson, co-host of W5 and former chief anchor and senior editor of the CTV National News. Robertson shared his story about living with osteoarthritis at the Toronto event. "The Walk is raising awareness that we're a large community, and we help one another. We know that by working together, we can make things better. Because really, that's what life is all about."
Contributions are still being accepted at http://www.walktofightarthritis.ca.
ABOUT THE ARTHRITIS SOCIETY
The Arthritis Society has been setting lives in motion for over 65 years. Dedicated to a vision of living well while creating a future without arthritis, The Society is Canada's principal health charity providing education, programs and support to the over 4.6 million Canadians living with arthritis. Since its founding in 1948, The Society has been the largest non-government funder of arthritis research in Canada, investing more than $185 million in projects that have led to breakthroughs in the diagnosis, treatment and care of people with arthritis. The Arthritis Society is accredited under Imagine Canada's Standards Program. For more information about The Arthritis Society and to make a donation, visit http://www.arthritis.ca.