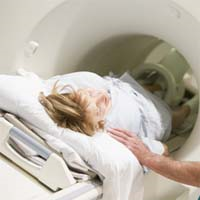 A low-dose CT with Veo reconstruction substantially reduced radiation.
Raleigh, NC (PRWEB) June 10, 2014
French and Australian researchers say a new way of creating detailed pictures from CT scans may make it possible to screen for cancers like mesothelioma using less radiation. Surviving Mesothelioma has just posted an article on the new research. Click here for the details.
Radiologists from University Hospital CHU G. Montpied in Clermont-Ferrand, France compared two CT image-creation techniques – the new Veo algorithm and the gold standard filtered back projection (FBP) method – in 27 asbestos-exposed workers.
"A low-dose CT with Veo reconstruction substantially reduced radiation," reports the study's lead author Marielle Tekath. Using the Veo algorithm to construct the images allowed for an 87% reduction in radiation to patients.
In a report published in the British Medical Journal, Dr. Tekath and her colleagues say the Veo method was just as effective as the traditional approach for picking up early signs of asbestos-related lung damage that could lead to mesothelioma.
"Although we know that asbestos work dramatically raises mesothelioma risk, there is still no safe way to effectively monitor exposed workers," says Surviving Mesothelioma's Managing Editor Alex Strauss. "If this new technology is proven to make CT scanning safer, it could be lifesaving for many people."
Currently, mesothelioma is almost universally fatal, largely because it causes few symptoms until it is in its later stages. To read more on the new CT study, see New CT Method May Enable Safer, Earlier Mesothelioma Detection, now available on the Surviving Mesothelioma website.
"Comparison of the ultra-low-dose Veo algorithm with the gold standard filtered back projection for detecting pulmonary asbestos-related conditions: a clinical observational study", Tekath, Marielle et al, British Medical Journal open, published online May 30, 2014, http://www.ncbi.nlm.nih.gov/pmc/articles/PMC4039784/