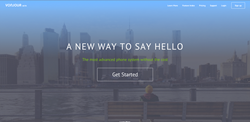 Santa Monica, CA (PRWEB) June 10, 2014
Los Angeles has long been known as the creative capital of the world and is now home to over 240 technology startups. Its burgeoning tech scene has captured the attention of much of the tech world.
Built In LA, the online community for Los Angeles digital tech entrepreneurs and innovators, recently featured one of Silicon Beach's fastest growing companies, Vonjour.com. The article focuses on Vonjour's new enterprise communications platform and the company's strong early traction.
"We are honored to be included in Built In LA's coverage of the LA tech scene," says co-founder and CEO, Daniel Tawfik. "Our company has always sought to be at the center of the way businesses communicate with their customers. While we are only in the early stages of our product release, we are very excited about our thriving beta community and the buzz we've received from the tech community."
Vonjour recently released its next generation cloud based business phone system. In only three months of its beta release, the company has over 1500 business accounts and over 7000 users.
With Vonjour, a business can set up a hardware-free Cisco level phone system (previously only for very sophisticated or large businesses) accessible on any device (mobile, tablet and web browser) in just five minutes. Vonjour's software brings the sophistication of an enterprise solution with no hardware, cross-platform accessibility and a seamless user experience to the SMB.
To learn more about Vonjour and its business phone solution, visit Vonjour.com and sign up for a free account.
About Vonjour: Vonjour is a Santa Monica based company with a mission of being the center of all customer conversations. We provide a seamless, free, and light weight solution for an entire company to connect to its customers, while providing an unparalleled view of what customers are saying.