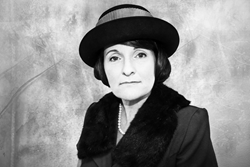 "I'm not interested in lazy roles for shear entertainment. I admire actors that play controversial figures, like Forest Whitaker as Idi Amin and Anthony Hopkins as Nixon. Art brings light to social issues and injustices."
(PRWEB) June 10, 2014
(North Hollywood, CA) – Actress, Pamela Daly, is embracing both admiration and backlash in anticipation of her one-woman play at the El Portal Theatre from August 22nd – August 31st, when she'll portray the controversial women's rights icon, Margaret Sanger.
Sanger, whose legacy is often skewed to fit agendas by opposing sides of sensitive topics like abortion, race, and women's rights; presents a very unique and challenging role. The entire play is written in Sanger's own words, and with this, Daly hopes to shed more light onto Sanger's life and views in order to spark meaningful reflection for the audience. There are shocking surprises for both Liberals and Conservatives alike. Already, Daly has received much criticism and encouragement via e-mail, Facebook and Twitter – both celebrating her courage, and scolding her character choice.
While Daly's career accomplishments include work in TV, film, commercials and theatre; she stated, "a return to stage has been pulling at my heart, and I wanted to challenge myself both creatively and emotionally with a role that offered real substance." With the support of her family who've been heavily involved in the production, her management at Stein Entertainment Group, and many of her professional peers, Daly is fully prepared to own the role of Sanger – along with all the positive and negative feedback that it may garner.
Daly stated, "I'm not interested in lazy roles for shear entertainment. I admire actors that play controversial figures, like Forest Whitaker as Idi Amin and Anthony Hopkins as Nixon. Art brings light to social issues and injustices." With this, Daly will bring Margaret Sanger to life on stage, entirely in Sanger's own words – good, bad and indifferent.
For information on tickets and show dates visit: http://www.elportaltheatre.com