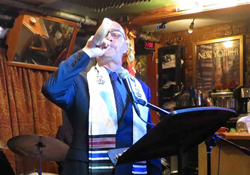 Rabbi Steve, the service was not only by far the most interesting and fun, but to me the most meaningful too. I never thought fun and the High Holidays could be combined but you and your team did it masterfully. Thanks.
New York, NY (PRWEB) July 24, 2014
"Incorporating the context of a jazz musical venue into High Holiday worship has proven to be immensely popular," said Rabbi Steve Blane, founder of Sim Shalom. "These services have sold out each of the past two years, and given the charm and cachet of Zeb's, we're anticipating a delightful experience."
Zeb's, a popular destination for New York jazz musicians and devotees, is located on the second floor at 223 W. 28th Street, between Seventh and Eighth Avenues in Manhattan. It accommodates 65 attendees, and provides the instrumental and technical components for a fully dimensional musical experience. In addition, owner and world-class jazz guitarist Sol Rubin will sit in with the Sim Shalom musical ensemble.
Rabbi Blane (vocalist) and a quartet that includes Tal Ronen (bass), Jack Glottman (piano) and others will enthrall your Jewish spirit with traditional prayers imbued with jazz overtones. Over the past two years, Sim Shalom hosted jazz High Holiday services at Small's in Greenwich Village, and at "Stand Up, New York!" on the Upper West Side.
"There's a singular and sacred dimension achieved by conjoining the Holidays with this music," said Rabbi Blane. "That imprint, that specific spiritual elevation, is what we can create with these Services."
Five days and nights of services/performances will be offered. RSVP here. They are:
Rosh Hashana, Sept. 24th, 7:30 p.m. (Service includes melodies from Selichot).
Rosh Hashana, Sept. 25th, 10:30 a.m.
Kol Nidre, October 3rd, 7:30 p.m.
Yom Kippur, Oct. 4th, 10:30 a.m.
N'eelah, The End of Yom Kippur and Break-The-Fast, October 4th, 5 p.m. (bagels and orange juice will be served).
About Sim Shalom
Sim Shalom is an interactive online Jewish Universalist synagogue which is liberal in thought and traditional in liturgy. Created in 2009 by Rabbi Steven Blane on Manhattan's Upper West Side, Sim Shalom offers a means of connecting the unconnected. Rabbi Blane leads accessible and short Kabbalt Shabbat services every Friday night using a virtual interface and additionally Sim Shalom provides online education programs, Jazz concerts, conversion and life-cycle ceremonies along with weeknight services at 7:00PM EST led by Rabbis and students of this online community.
Rabbi Blane is also the founder and director of the Jewish Spiritual Leader's Institute, http://www.jsli.net the world's first one-year rabbinical program.
Sim Shalom, a non profit 501 © (3) tax-exempt organization, nurtures a Jewish connection through its mission of innovative services, creative education and dynamic outreach to the global community. For more information visit http://www.simshalom.com or call 201-338-0165.