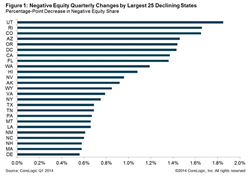 Utah, Rhode Island, and Colorado were the states which experienced the largest percentage declines
(PRWEB) June 09, 2014
Peoples Home Equity recently read in a Corelogic report that negative home equity declined among 80% of states in the 1st quarter of 2014.
Corelogic reported on Thursday, June 5th that the share of negative equity nationwide fell 13.4 % in the 1st quarter. This means "the number of underwater borrowers decreased from 6.6 million to 6.3 million." The total dollar amount of negative equity was down $17 billion from the end of 2013, falling to $384 billion in Q1 2014. On quarterly basis, "40 states exhibited a decrease in negative equity" this was a direct result of rising home prices.
Utah, Rhode Island, and Colorado were the states which experienced the largest percentage declines, respectively at -1.9%, -1.7%, and -1.7%. States that saw the smallest percentage declines were Delaware, Massachusetts, and New Hampshire falling between -0.5% and -0.6%. In terms of dollar amounts, individual cities showed high remaining numbers of negative equity. Chicago ranked the highest in negative equity valued at approximately $20 billion. Chicago has been particularly slow to see equity values rise and limited inventory and winter weather fail to attract enough bidding to raise prices even higher. Chicago is a city that very much relies on summertime to do the most impact for its urban and suburban real estate. New York ranked 2nd in the highest value of negative equity at $17 billion, followed by Los Angeles at $12 billion. As for the significance of negative equity and default rates; "the number of homes with positive equity had a default rate of 0.6 percent, the same as in the previous quarter. However, homes with negative equity had a default rate of 3.5 percent as of Q1 2014, down from 3.7 percent in Q4 2013."
Peoples Home Equity thinks the next report on quarterly progress of negative equity will reflect the continuation of home prices during the 2nd quarter. The Midwest lender thinks this since DQnews.com's "National Home Sale Snapshot" has shown a near relentless climb in both home sale and median home prices during this spring season.
If interested in securing a competitive, lower rate mortgage, consider speaking with a Peoples Home Equity loan officer today details at: 262-563-4026