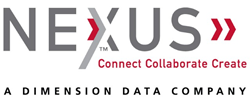 Now that Nexus is part of the Dimension Data family, our clients have access to an extended national and international portfolio of Experts and Professional Service and Product Solutions.
Valencia, CA (PRWEB) June 09, 2014
Nexus IS, Inc. ("Nexus") a leading global provider of professional, cloud and managed services for advanced IT solutions, today announced that it has been recognized by UBM Channel as a part of CRN's 2013 Solution Provider 500 list, which identifies the top technology integrators in the U.S. and Canada based on revenue size and whose forward-thinking approach to the channel has helped them evolve and thrive in today's cloud and services-driven IT era. The list spans eight categories, from hardware and software sales to managed IT services. Nexus jumped up 23 points from last years' position to 55 in the annual ranking.
"Our rapid climb up CRN's Solution Provider 500 list is made possible by our valued clients, hardworking associates and strategic partners," stated Waheed Choudhry, Nexus President & COO. "Now that Nexus is part of the Dimension Data family, our clients have access to an extended national and international portfolio of Experts and Professional Service and Product Solutions. This is the "Power of One."
In April of this year, $6 billion dollar global solution provider, Dimension Data, #13 on the Solution Provider 500 list, acquired Nexus. At the forefront of the rapidly changing service provider landscape, Dimension Data and Nexus both combine technology expertise and global service delivery capabilities with a full range of complex managed services and solutions to help clients meet every requirement, from public/private/hybrid cloud and data center services to network integration, converged communications, contact centers, security and more.
"The annual Solution Provider 500 represents those companies that truly understand the needs of customers today as the IT landscape evolves," said Robert Faletra, CEO, The Channel Company. "With so many options, this list has become an invaluable resource for vendors working hard to navigate the solution provider community and identify the best partner for their business. We congratulate the featured solution providers and look forward to covering their continued success."
A sampling of the 2014 SP500 list is featured in the June issue of CRN Magazine and is featured online at http://www.crn.com and in the CRN Tech News app, available for iPad and Windows 8.
About Nexus
Nexus leverages its extensive experience and expertise to enable organizations to Connect, Collaborate and Create by providing end-to-end technology solutions based on six distinct, yet complementary, practices: Collaboration, Data Center, Borderless Networks, Managed Services, Cloud and Business Video. Nexus partners with industry leaders including, Cisco, EMC, NetApp, VMware, Citrix, Microsoft and NEC, to provide the most comprehensive and competitive solutions to clients. Nexus serves the private sector, from small business to the Fortune 500; and the public sector including local, state, and federal government. Additionally, Nexus has highly specialized vertical market practices including GovEd, Healthcare and retail, where it has developed proprietary applications that turn unified communication into clinical workflow solutions. Nexus is a Dimension Data company. http://www.nexusis.com
About The Channel Company
The Channel Company is the channel community's trusted authority for growth and innovation, with established brands including CRN, XChange Events, IPED, and SharedVue. For more than three decades, we have leveraged our proven and leading-edge platforms to deliver prescriptive sales and marketing solutions for the technology channel. The Channel Company provides Communication, Recruitment, Engagement, Enablement, Demand Generation and Intelligence services to drive technology partnerships. Learn more at http://www.thechannelcompany.com.