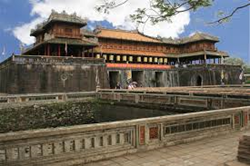 With comfortable accommodation and transport by private air-conditioned van, tourists will have plenty of time to appreciate the incredible beauty and remarkable people of Vietnam
(PRWEB) June 09, 2014
Smile Travel Vietnam was established in 2008 in Hanoi, Vietnam. Smile Travel Vietnam is currently presenting a wonderful tour to Halong Bay and Hue city in Vietnam called "Timeless Vietnam."
From the breathless beauty of Halong Bay to the former imperial capital of Hue, Smile Travel Vietnam offers adventurous visitors a chance to explore Vietnam's ancient past and promising future.
"With comfortable accommodation and transport by private air-conditioned van, tourists will have plenty of time to appreciate the incredible beauty and remarkable people of Vietnam"-said the Chief Executive of Smile Travel Vietnam.
The special tour will extend for 2 days:
Day 1: Halong Bay
In the morning, the traveler will takes a private bus to Halong Bay. Halong Bay is a breathtaking secluded harbor with 2,000 limestone islands rising from emerald waters. It is one of the most scenic regions in Vietnam and has been nominated as one of the new 'Natural Wonders of the World'.
After a light breakfast, passengers continue to cruise around the Bay to finding more secluded areas to enjoy. Later in the day travelers catch a short flight to Hue.
Day 2: Hue
Founded as a royal city in 1687, Hue is the gateway to the treasures of Vietnam's royal past and remains one of Vietnam's major tourist attractions. This quiet city is widely known for the magnificent architecture of its citadel, royal tombs, pagodas and temples built under the Nguyen dynasty in a background of greenery on the banks of the Perfume River.
Early on the morning of Day 2, tourists meet the local guide and take a tour of the ancient walled Citadel containing the former Imperial Palace. The Citadel was closely modeled on the Forbidden City in Beijing and was almost totally destroyed during the Tet Offensive of the Vietnam War. It is now being faithfully restored thanks to the generous funding by UNESCO.
The hotel in Hue is located within walking distance of the many shops and restaurants in the downtown Hue area.
For further details, please contact at sales(at)smiletravelvietnam(dot)com or call + 84 976.127.023.