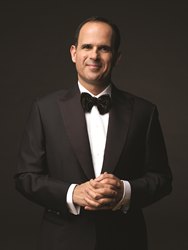 "We are so lucky to have someone of Marcus' experience and stature at Mudstock. I have no doubt that he'll have valuable insight to share with this year's attendees," said Mudlick Mail President Tim Ross.
Acworth, GA (PRWEB) June 10, 2014
Business turnaround king Marcus Lemonis, star of CNBC's The Profit, will deliver the keynote address at the 2014 Mudstock Training Summit slated for September 3-5, 2014. Lemonis, CEO of Camping World, the nation's largest RV and outdoor retailer, and Good Sam, the world's largest organization of RV owners, is known as the "business turnaround king" and has turned around more than 100 companies over the past decade. At Mudstock, Lemonis will share profit and growth strategies for entrepreneurs.
Presented by Mudlick Mail, a provider of direct mail services for the automotive repair industry, Mudstock 2014 is an interactive training event designed for independent automotive shop owners and owner-operators. The event aims to help shop owners grow their businesses with practical tools and how-to knowledge to produce results.
"We are so lucky to have someone of Marcus' experience and stature at Mudstock. I have no doubt that he'll have valuable insight to share with this year's attendees," said Mudlick Mail President Tim Ross.
Lemonis will speak at 7 p.m. on September 4th, sharing the experience he has gained working with struggling businesses around the country. On The Profit, he invests his own money and knowledge in failing businesses, in exchange for a piece of the business and a percentage of the profits. Prior to The Profit, he appeared on NBC's Celebrity Apprentice in 2011 and 2012 and was featured on ABC television's Secret Millionaire in 2012.
Named Entrepreneur of the Year in 2008 by Ernst and Young, Lemonis leads nearly 6,000 employees in over 100 U.S. cities, and recorded close to $3 billion in sales in 2013. He also owns A Better Life, a holding company offering products and services inspired by Lemonis' ongoing lifestyle goal to eat right, nourish the body, incorporate exercise into a hectic schedule, minimize stress and limit exposure to harmful toxins.
Other speakers include: Ross, a direct mail expert; Greg Sands, Mudlick's founder and CEO and one of the nation's most successful auto repair operators with more than 38 shops in five states; Rissy Sutherland, COO of Honest-1 Auto Care; and digital marketing expert Todd Westerlund, CEO of Kukui Corporation, a developer of software marketing solutions for automotive repair shops.
Mudstock regularly draws more than 150 of the nation's top service center owners to the Barnsley Gardens Resort, tucked in the foothills of the Blue Ridge Mountains just north of Atlanta. Amidst this beautiful background, industry experts will provide guidance on a wide variety of topics, including:

Capitalizing on trends in the automotive industry
Hiring and training technicians and service writers
Valuing your business
Increasing sales and profitability
Financing growth
"This event provides a great opportunity for shop owners to exchange information and ideas while gaining expert guidance to improve their businesses," said Sands.
About Marcus Lemonis:
Marcus is an American businessman, investor, television personality and philanthropist. He serves as the chairman and CEO of Camping World and Good Sam Enterprises and star of CNBC's Primetime reality series The Profit, with new episodes returning October 2014.
About Mudlick Mail:
Founded in 2008, Mudlick Mail helps automotive repair shops deliver the right message to the right audience by allowing clients to focus on customers by income, geographic area, and other key demographic details. The company also provides a turn-key suite of direct mail services to reach customers that includes postcard design, printing, listing services, postage, delivery and tracking analysis for one flat fee.
Mudlick Mail counts more than 1,200 customers in the United States and Canada. After posting a 37 percent increase in revenue in 2013, company officials are anticipating another double-digit growth rate in 2014.