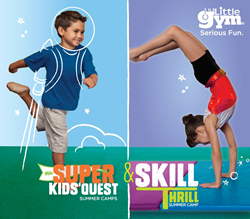 With these simple suggestions, "I'm bored" won't be heard all summer long!
Scottsdale, AZ (PRWEB) June 17, 2014
Summer is a fun and exciting time for families. The kids are out of school, vacations are planned, and it's finally nice enough to play outside. The last thing any parent wants to hear during the summer months is, "I'm bored." There are many simple activities to keep kids occupied so that, "I'm bored" isn't heard once this summer.
1) Check out the local library's summer programs. The library in town likely has a free Summer Reading Program for kids of all ages. This is a great way to encourage reading during the summer months and most libraries offer kids fun prizes for participating. Click here to locate the nearest public library: http://www.publiclibraries.com.
2) Enroll in one of The Little Gym's brand new Summer Camps. The Super Kid's Quest Summer Camp is designed for 3-8 year and the Skill Thrill Summer Camp is designed for 6-12 year olds. The Little Gym's Summer Camps offer flexible scheduling allowing every busy family to include The Little Gym camp programs in their child's summer activities.
3) Play outdoors. There are a ton of creative, fun, and safe activities for kids to play outside during the summer months.

Have a family car wash. Get the kids to do the dirty work. It will be much more fun as a family activity.
Create a lemonade stand. Make homemade lemonade and charge neighbors .25 cents a cup on a hot day. It will be impossible for them to say no.
Play outside in the sprinkler, on the slip and slide, or with water balloons. Playing with water in the summer months is Serious Fun.
4) Even on too hot days, there is always fun to be had indoors.

Play Dress-up. Allow children to rummage through closets or their own dress up drawer. Have a fashion show with the results.
Make an indoor fort. This is a fun way to use imaginations. The kids won't want to take their creation down.
Have a dance party with favorite The Little Gym tunes.
5) Explore the local town. Head to the nearest park and make some new friends. Stop by the local Fire Station and bring the Firefighters some homemade cookies or brownies.
With these simple suggestions, "I'm bored" won't be heard all summer long. Happy Summer to all of The Little Gym families!
About The Little Gym
The Little Gym is an internationally recognized program that helps children build the developmental skills and confidence needed at each stage of childhood. The very first location was established in 1976 by Robin Wes, an innovative educator with a genuine love for children. The Little Gym International, Inc., headquartered in Scottsdale, Ariz., was formed in 1992 to franchise The Little Gym concept. Today, The Little Gym International has more than 300 locations in 29 countries. For more information, visit The Little Gym at http://www.TheLittleGym.com.