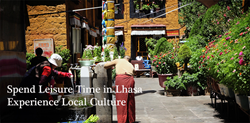 Lhasa, Tibet (PRWEB) June 11, 2014
"Most tourists are more interested in visiting popular destinations, but serious travelers are always prepared to feel the historical, social and cultural life," said Kunga, a famous Tibetan tour guide of Tibet Vista Tour, a professional agency on Tibet Travel, "So I would like to recommend some unique and truly unusual places. They are least-visited, but offer a real taste of local culture and life."
1. Sweet Tea Houses
In Lhasa, sweet tea houses are everywhere, serving sweet tea, butter tea and Tibetan noodle. They are popular places for locals to kill time. Sweet tea is to Tibetans what coffee is to westerners. It is a refresher to wake up for the day. No morning can happily pass and no lunch is dainty without it. Every morning, tea houses are warming up with the arrival of locals and travelers in pairs or groups. Sharing a bench with locals, ordering a large thermos of tea and a bowl of Tibetan noodles, one will get a true native experience. It is regarded as the must do program of a Lhasa tour
2. Nechung Monastery
The monastery, just a couple of minutes' walk down the hill from Drepung Monastery, is a place for great masters to teach and for students to practice the teachings through contemplation and meditation. Established in 1973 by the Venerable Nechung Rinpoche, it is regarded as the seat of Nechung in Tibet's history. For this reason, the imagery painted on the walls is usually fierce and bloody (flayed human skins and souls in torment). Visitors are allowed to take photos freely in the monastery.
3. Shugsheb Nunnery
Sitting in a huge basin, the nunnery is the largest in Tibet. It is about 65km to the south of Lhasa, housing over 280 nuns. It is a favorite for trekkers and anyone who likes to get off the beaten track. It is a 45-minute hike to the village-like nunnery. Climbing to up the hill behind the nunnery, one can have a magnificent view of the Kyi-chu Valley, the snowcapped top of Nojin Kangtsang (7,191m) and other Himalayan peaks.
4. Seling-Tso Lake
Seling-tso lies at an altitude of 4,530 meters. It stretches approximately 72 kilometers from the east to the west, and 22.8 kilometers from the south to the north. Spanning over an area of 1,640 square kilometers, the lake is the second largest in Tibet, next to Namtso. It is a paradise for wild animals. You would find a large variety of rare species, like black-necked crane, snow leopard, chiru, argali, kiang, and Tibetan snow-cock,
5. Mindroling Monastery
It was founded in 1676 on the south side of Yarlung Tsangpo River, approximately 43 kilometers east of the Lhasa airport. For centuries, its monastic university has trained Nyingma scholars and yogis from all over Tibet. Special emphasis is placed on the learning of Buddhist scriptures, astronomy, Tibetan lunar calendar, calligraphy, rhetoric, and traditional Tibetan medicine. On the wall of its main hall are many paintings of Buddha with ferocious faces and extra heads and arms. According to Tibetan Buddhism, those malevolent-looking deities are guardians of the temple against enemies and evils. More interestingly, the monks in the monastery are allowed to get married. The succession of the patriarch is restricted to father to son or father-in-law to son-in-law.
Tibet Vista also recommends other interesting day tours in Lhasa
About Tibet Vista Tour
Tibet Vista (http://www.tibettravel.org), the top online Tibet tour operator, annually sends more than 1,000 individual travelers and over 100 tour groups to Tibet. It helps travelers to obtain the Tibet Travel Permit, book air/train tickets to Tibet and customize their tours. The company also keeps updating latest information about Tibet on Facebook (tibettravel.org) and twitter (@TibettravelOrg).