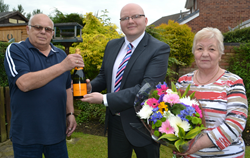 On behalf of Autonet we hope Mr Lyne continues to be a customer in the years to come.
(PRWEB UK) 9 June 2014
Autonet Insurance is pleased to celebrate 15 years of business with their longest serving customer Mr. David Lyne.
The Staffordshire broker wrote their first policy in 1999 based in Newcastle-under-Lyme. Founders Glynn Keeling and Ian Donaldson, both local to the area, set up the award-winning organisation to provide insurance solutions for customers nationwide across a whole host of industry products.
The business has gone from strength to strength and now currently has over 240,000 live insurance policies in force and in 2013 opened a second office based in Liverpool. Autonet has also been able to create over 600 jobs for the Staffordshire area at their head office.
Autonet Insurance Group wanted to celebrate how the business has grown over the years by acknowledging Autonet's longest serving customer which was Mr. Lyne. As a thank you for being with Autonet since 1999, Mr. Lyne has been given his insurance policies for the year at no cost.
Mr. David Lyne Autonets longest serving customer said: "We have stayed with Autonet for so long because we have always been satisfied with the price of our premiums. Autonet have always provided a great service to us and we like that we know what we are getting. We are pleased to be Autonet's longest serving customer."
Ian Donaldson, Managing Director of Autonet Insurance, said: "It is a great achievement to be in the insurance industry for 15 years providing the UK with insurance solutions."
"We are proud to have Mr. Lyne as an Autonet customer for 15 years and gifting his insurance policy for the year is our way of saying a big thank you for his loyalty."
"On behalf of Autonet, we hope Mr. Lyne continues to be a customer in the years to come."
Chris Jolley Director of Trading at Autonet Insurance said: "In an aggregator world with access to the internet, it's pleasing to see that we have been able to retain Mr. Lyne as an Autonet Customer."