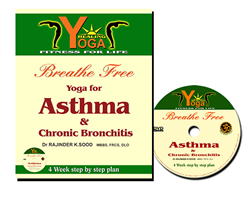 Over 5 million people in the UK have asthma.
(PRWEB UK) 12 June 2014
The book is based on his experience as a consultant and running a yoga clinic for asthma and chronic bronchitis sufferers. Dr Sood, a consultant with NHS, educates patients in special breathing exercises and carefully selected postures.
Those participating in Dr Sood's weekly classes are also asked to undergo exercises at home too, five times per week. The reported benefits of this, alongside the treatment in the clinic includes:

Easier breathing and reduced stress.
Fewer and less severe acute attacks.
Required less medication including inhalers.
Improved fitness and general sense of well being.
Patients felt they were playing an active role in management of their condition.
Dr Sood says: "Over 5 million people in the UK have asthma*, with an average annual cost to the NHS of over £1billion. Yoga can not only help individuals find an alternative to medicine but it could also reduce the NHS bill. Worldwide well over 300 million people suffer from this condition and the incidence is increasing". (*Statistics adapted from World Health Organisation website; http://www.who.int/respiratory/asthma/en/)
Like Dr Sood's patients, the benefits of breathing exercises and yoga are also reported from fellow industry experts, such as:
Dr Candace Pert says, "The peptide substrate may provide scientific rationale for the powerful healing effect of the consciously controlled breath patterns."
Dr D S Khalsa MD writes in his book called "Meditation as Medicine: "Lungs are filled with very high concentration of peptides. By breathing deeply or rapidly or breath holding can change the profile of peptide that reach brain."
Dr Sood, concludes: "My clinic is proud to assist patients with their symptoms of asthma and bronchitis, the results are so palpable that I wanted to share the lesson with more people."
Dr Rajinder Sood's book is being sold direct via his website or through Amazon Book Sellers. The book comes with a DVD. The programme has been developed in such a way that one does not need any prior knowledge of yoga.
Distributors can email rajindersood(at)hotmail(dot)co.uk for 50% discount on order of five or more books.