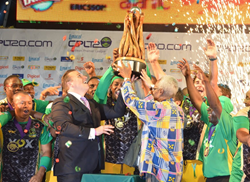 The CPL sees six teams battling it out across the region in exciting T20 matches that are sure to be popular with locals and holidaymakers alike.
(PRWEB UK) 9 June 2014
UK online travel company, Globehunters, is offering free tickets to Caribbean Premier League (CPL) matches with selected Barbados holiday packages. The CPL sees six teams featuring high-profile international cricketers battling it out in exciting T20 matches that are sure to be popular with locals and holidaymakers alike.
The Globehunters holiday packages will combine stays at either the Halcyon Palm or Travellers Palm on Barbados' idyllic west coast with tickets to the hotly contested CPL matches at the nearby Kensington Oval between July 23rd and 26th.
The CPL has already attracted some elite names from the cricketing world and is sure to get plenty of interest in the UK, especially as big-hitting former England captain Kevin Pietersen is heading to Barbados with the St Lucia Zouks. Cricketing legends Chris Gayle and Muttiah Muralitharan will be part of the Jamaica Tallawahs line-up as they attempt to defend their title having beaten Guyana Amazon Warriors in last year's final.
Whilst most domestic competitions pit neighbouring regions against each other, the CPL adds an international rivalry to the mix with teams from six different nations taking part. With national pride at stake, there is sure to be an electric atmosphere throughout, particularly in the legendarily raucous 'Party Stand' at the Kensington Oval.
The tournament is expected to be a big hit in the UK with this year's competition being shown live on BT Sport. The CPL is even endorsed by Richard Branson, and Hollywood A-listers Mark Wahlberg and Gerard Butler are shareholders in Barbados Tridents and Jamaica Tallawahs respectively.
CPL 2014 is the latest exciting event to take place in Barbados following the Top Gear Festival in May. This saw F1 star Lewis Hamilton join the Top Gear team for a two day live spectacular at the island's renovated Bushy Park Circuit.
Globehunters offers:
Choose from two beachfront self-catering options, just a short drive from the Kensington Oval on Barbados' west coast. Offers include free tickets to a CPL match at the Oval, with the option to upgrade to a 'Party Stand' ticket for a small fee.
Travellers Palm from £1049pp – 30% off
Halcyon Palm from £1129pp - 15% off
Both offers include return flights from London Gatwick with Virgin Atlantic, plus accommodation transfers and a welcome pack. Prices based on two adults sharing one bed apartments. Other room types and combinations available upon request.
For more information, visit globehunters.com or call 020 8944 4506.
ENDS
About the Caribbean Premier League:
CPL 2013 attracted over 240,000 spectators to live matches and a global TV audience of 36 million. This year's tournament gets underway on July 11th and culminates with a final held in St Kitts on August 17th. Teams from six different nations will compete in venues across the West Indies and Guyana, with three matches held at the Kensington Oval in Barbados. Globehunters customers can get free tickets to one of the following matches:
Wednesday 23rd July - Barbados Tridents v St. Lucia Zouks
Friday 25th July - Barbados Tridents v Antigua Hawksbills
Saturday 26th July - Barbados Tridents v Guyana Amazon Warriors
Images: http://goo.gl/pQifqa
About Globehunters:
Globehunters is a UK-based online travel company that provides flights, accommodation and holiday packages around the world, and is notable for being one of the fastest-growing online travel companies in the UK.
The company offers some of the most competitively priced flight and holiday deals on the market and has an established relationship with travel partners including: airlines, luxury hotels, resorts, boutique hotels, local tour companies and car hire companies throughout the world. Globehunters is ATOL protected, and a member of IATA and ABTA, providing comprehensive airline failure insurance to all its customers.