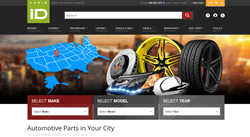 (PRWEB) June 11, 2014
Ever since its foundation in 2003 in New York, CARiD has been delivering automotive details to every state of America. Currently, over 10 years later, its distribution network is fully developed, and right now there is no place in the US that would not be included in CARiD nationwide coverage. Thus, the retailer had no choice but to update its site navigation, which now includes a full list of CARiD service and distribution centers in each state: http://www.carid.com/local-auto-parts-directory.html.
A modest New York enterprise that started as a small online retail store has rapidly turned into an extended network that collaborates with major influencers on the automotive detail market and supplies customers all over the United States with car spares from some of the most trusted American and international manufacturers. To date, apart from the main store, the company has local stores and distribution centers in every state of the country. Such a rapid expansion makes CARiD one of the leading automotive chains in the country, which is promising, as this retail company justly occupies its spot among the most influential US retailers.
Therefore, the company felt the need to update its site navigation, allowing current and existing customers an easy access to the full list of CARiD distribution centers all over the US. Right now, a full list of CARiD local stores can be found on a separate page of the corporate website. For the customer's convenience, this list is alphabetized, which facilitates clients' search and boosts user experience.
All of the goods purchased on CARiD main website can now be distributed to one of the company distribution centers. In addition, each local section of the main website has a set of its own offers and discounts, which may prove beneficial for car enthusiasts. Limited special offers and impressive discounts have always been featured by this retailer. As of today, even more special offers and featured products will be available in the local stores.
Typically, featured products include short-time, limited propositions of buying a certain product with up to 70% discount. Plus, CARiD also offers minor items, such as plugs, as a free addition to the bigger order. Such propositions are usually based on the popularity of an item – if a certain item appears to be in the great demand, the store gladly offers such goods for sale.
Therefore, the introduction of local stores and local product sales is of primary importance, as it allows the company to cater the demand of each particular state and its customers.
About CARiD: CARiD is a trusted online retailer supplying auto spare parts and collaborating directly with leading original equipment manufacturers. Its moderate pricing policy, impeccable service and professional expertise helped to increase the retailer's existing client database, as well as to attract plenty of new clients. CARiD's direct partnership with the most trusted automotive manufacturers accounts for the unquestionable quality of every stored item.
Location: 
1 Corporate Drive 
Cranbury, NJ 08512 USA 
Phone: 800-505-3274 (toll free) 
Fax: 609-964-1983