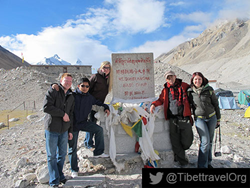 Traveling with a buddy can be safer, more enjoyable and cheaper. You can use Tibet Vista, Tibettravel.Org to find someone with the same travel plan before leaving for Tibet.
Lhasa, Tibet (PRWEB) September 07, 2014
As it is expensive for most travelers to have a private tour in Tibet, travelers are advised to join a tour group to cut down the cost. Since Tibet Vista Tour has rich clients resources, it is now offering a free service to help single tourists to find travel mates to reduce the cost.
"It is known to all that foreigners are not allowed to travel independently in Tibet," said Mrs. Catherine Jing, marketing manager of the company. "Foreign travelers must apply for a Tibet permit through a legal travel agency, and Westerners can't travel without the companion of a licensed tour guide. In addition, scenic spots are often far from each other, so tourists must hire a vehicle and a driver, all of which will push up the cost."
"Some of clients might have to cancel the travel because of the high cost. But it is really unnecessary and there is a way out by finding travel companions who are heading for the same destination," Catherine said. "To that end, tibettravel.org will offer such help by releasing information on many famous travel websites to help individual tourists to find travel companions who can share the cost."
"Tibettravel.org has successfully found travel partners for lots of individual travelers. It is a great pleasure to help them to save money," Catherine said excitingly. "In this way, the cost of travelling from Lhasa to Everest Base Camp can be reduced from USD 1,500 to USD 800-900. Another example, Tibettravel provides a trip to Lhasa from mainland China by train at a price less than USD 550, including the train ticket. It is affordable for most tourists."
"In this way, Tibettravel.org facilitates foreign tourists' travel to Tibet and quickly emerges as the leading local travel agency," she continued.
"There are two ways to achieve it. Generally, fixed departure dates can be arranged for hot tours each month. Tourists can join in any of tour groups they like. According to operation experience, this is currently the most effective way. To guarantee the quality of services, the number of travelers of each package tour can be narrowed down to no more than twelve. So, tourists are able to get enough chances to communicate with the tour guide in such a small group."
"The other way is to organize a group according to travelers' requirements, like where one wants to visit and which kinds of travel mates one prefers. Then Tibettravel.org will find the right partners for suitable travellers."
According to the travel agency, the most popular destinations are Lhasa, Shigatse, Mt. Everest, and Mount Kailash. The company has designed six hot Tibet group tours covering the following destinations:
1. 4-day Lhasa City Tour
2. 6-day Lhasa and Namtso Tour
3. 6-day Lhasa to Shigatse Tour
4. 7-day Lhasa to Kathmandu Tour via Everest Base Camp
5. 8-day Lhasa to Everest Base Camp Tour
6. 15-day Lhasa to Mt. Kailash Tour via Everest Base Camp
"Tibettravel.org organized over 100 such tour groups to Tibet in 2013. It helped more than 1,000 individual travelers to cut down cost," said Ms. Debbie, the OP manager of Tibet Vista Tour. "Tibet Vista Tour is going to offer more group tours this year, including festival tours with fixed departure dates."
About Tibet Vista Tour
Tibet Vista Tour (http://www.tibettravel.org), the top online Tibet tour operator, annually organizes more than 1,000 individual travelers and over 100 tour groups to Tibet. It helps travelers to obtain the Tibet Travel Permit, book air/train tickets to Tibet and customize their tours. The company also keeps updating latest information about Tibet on Facebook (tibettravel.org) and twitter (@TibettravelOrg).