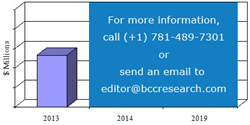 Global Market for Medical Robotics and Computer-Assisted Surgery to Reach $4.6 Billion in 2019
Wellesley, Mass., (PRWEB) June 09, 2014
BCC Research (http://www.bccresearch.com) reveals in its new report, MEDICAL ROBOTICS AND COMPUTER-ASSISTED SURGERY: THE GLOBAL MARKET, the global market for medical robotics and computer-assisted surgical (MRCAS) technologies, is expected to grow to $4.6 billion by 2019, with a five-year compound annual growth rate (CAGR) of 7%. Factors such as steadily aging global population and increasing demand for minimally invasive surgical procedures such as heart and orthopedic surgery are spurring significant opportunities in this market worldwide.
Surgical robots dominate the global MRCAS market, accounting for about three-quarters of the market, with endoscopic surgery being the most important application worldwide. However, other types of MRCAS applications are gaining in importance, notably orthopedic surgery. Orthopedic applications of MRCAS are expected to more than triple their market share between 2013 and 2019.
While the United States is expected to account for nearly 75% of the MRCAS market by 2019, the Asia-Pacific region is the fastest-growing market, surging at a considerable 13.4% CAGR as the result of a steadily growing population with increasing access to health care.
"The structure of the hospital industry, the main user of MRCAS, is also changing as hospitals consolidate and other health care options such as walk-in surgical clinics become available to consumers," says BCC Research health care analyst Andrew McWilliams. "Private and government health insurers around the world are becoming more cost-conscious, forcing hospitals to re-evaluate their capital spending plans but strengthening the case for technologies that can reduce the cost of surgical procedures."
MEDICAL ROBOTICS AND COMPUTER-ASSISTED SURGERY: THE GLOBAL MARKET provides an overview of the global market for MRCAS devices. It includes analyses of global market trends, with data from 2013, estimates for 2014, projections of CAGRs through 2019, and profiles of companies important in the industry.
Editors and reporters who wish to speak with the analyst should contact Steven Cumming at steven(dot)cumming(at)bccresearch(dot)com.
About BCC Research
BCC Research publishes market research reports that make organizations worldwide more profitable with intelligence that drives smart business decisions. These reports cover today's major industrial and technology sectors, including emerging markets. For more than 40 years, we have helped customers identify new market opportunities with accurate and reliable data and insight, including market sizing, forecasting, industry overviews, and identification of significant trends and key competitors. We partner with analysts who are experts in specific areas of industry and technology, providing unbiased measurements and assessments of global markets. Our clients include the top companies in industries around the world as well as universities, business schools, start-ups, consulting firms and investment companies. BCC Research is a unit of Eli Research LLC. Visit our website at http://www.bccresearch.com. Contact us: (+1) 781-489-7301 (U.S. Eastern Time), or email information(at)bccresearch(dot)com.
Data and analysis extracted from this press release must be accompanied by a statement identifying BCC Research LLC, 49-2 Walnut Park, Wellesley, MA 02481, Telephone: (+1) 781-489-7301; Email: editor(at)bccresearch(dot)com as the source and publisher.