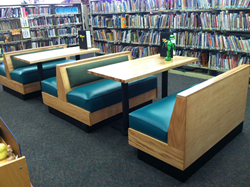 Madeira Beach, FL (PRWEB) June 09, 2014
Leading restaurant furniture manufacturer and distributor Affordable Seating recently helped the Gulf Beaches Public Library in Madeira Beach, Florida redesign its seating by giving it a fresh look with new booths.
The Gulf Beaches Public Library serves the citizens of Madeira Beach, Redington Beach, North Redington Beach, Redington Shores and Treasure Island, as well as member cities of the Pinellas Public Library Cooperative, the unincorporated area of Pinellas County and our visitors. They are supported by the five communities named above that have combined their resources in order to fund a library they would not be able to maintain individually. Located on two barrier islands in the Gulf of Mexico west of St. Petersburg, these communities are home to year-round residents and many seasonal residents and visitors.
The library was looking to replace its current seating with something that would be more comfortable, especially for children and elderly patrons. They chose to go with commercial grade booths as a family friendly alternative. "As a public library that serves many people in the community and experiences heavy traffic throughout the day, the Gulf Beaches Public Library was looking for booths and tables that would improve the décor and be popular with their patrons," Affordable Seating sales representative David explained.
Travis Ann Sherman, the Youth Services Librarian decided to go with Affordable Seating's DH Style Single Wood Booth With Semi Padded Back in 30" height and 48" in length. She also ordered DH Style Double Wood Booths in the same dimensions. Prices for the Seating's DH Style Single Wood Booth With Semi Padded Back start at as low as $392.
The new booths are popular with everyone at the library. "Everyone has loved these seats! They are totally welcoming and family friendly, and also create a sharing atmosphere among visitors," remarked Travis.
Travis also ordered solid wood table tops to go with the booths. Affordable Seating's solid wood table tops and booths are proudly made in the USA by skilled craftsmen. Affordable Seating has a wide selection of dining booths in many shapes, colors and fabrics and can also be custom made in any shape, size or fabric. Many quick ship booths are also available on the website and can be delivered in 7 – 14 days.
The Friends of the Gulf Beaches Library raised the money to pay for the new seating. The organization was founded in the 1950's and continues to provide the library with funds and services for resources which are not necessarily possible through funding by the cities.
To view Affordable Seating's full selection of restaurant chairs, bar stools, booths, tables and patio furniture, visit http://www.affordableseating.net or call a customer service representative at (888) 495-8884.
The Gulf Beaches Library is located at 200 Municipal Dr. in Madeira Beach, FL. They can be contacted at (727) 391-2828. For more information on the Friends of the Gulf Beaches Library, you can visit their website at http://www.gulfbeacheslib.org/friends.