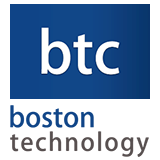 "JD's strategic clarity and results-oriented approach will be key to enabling BTC scale to the next level," said Nithin Rao, President, Boston Technology Corporation.
Marlborough, MA (PRWEB) June 11, 2014
Jayas Damodaran (JD) will lead the strategic direction and growth of the company. He will directly oversee Boston Technology Corporation's client engagement, business development and marketing initiatives. BTC has worked with clients ranging from pioneering startups to established Fortune 500 companies, across domains.
"JD's strategic clarity, results-oriented approach and impressive business experience spearheading business development and focused client relationship initiatives with some of the world's most valued business brands will be key to enabling BTC scale to the next level," said Nithin Rao, President, Boston Technology Corporation.
A graduate of IIT-M and IIM-B, two of India's premier education institutions, JD brings in more than two decades of valuable experience in business strategies, client communication and establishing brand visibility. He has headed growth initiatives servicing enterprise clients for companies such as IBM, Microsoft, Wipro, Satyam, SAP and recently with Oracle. As CEO, JD will direct the strategy. sales and marketing efforts at BTC. Creating innovative means to increase the value to customer has been JD's passion and focus.
"I am excited to be a part of BTC and look forward to working with a highly talented and spirited team in establishing a flagship brand for all things enterprise software. With mobility initiatives being an integral part of every company's strategy, it is indeed an exciting time to be a player in this space. Clients are looking to leverage the diverse ways quality mobility and custom software can give them a competitive edge. And, this is exactly what we intend to provide them", said Jayas Damodaran.
JD joins BTC from Oracle India, where he headed the Sales Consulting team for Applications. Before that, he has held senior leadership positions at SAP, IBM, Microsoft and Wipro.
About Boston Technology Corporation:
Boston Technology Corporation (BTC), based in Marlborough, MA, is a leading Enterprise Mobility and Software services provider. From cutting edge Enterprise Mobility solutions to robust software applications, BTC has enabled a wide range of clients from Fortune 500 companies to innovative start-ups leverage the power of technology.
BTC's deep business domain knowledge, experienced technologists, proven and agile delivery methodology, and cost effectiveness has earned it respect and repeat engagements from clients. Be it the mobile or the web, BTC's engagements have covered the gamut from strategy, solution conceptualization, development, deployment and maintenance. In a decade, BTC has worked with over a 100 clients on 300+ engagements.
BTC has been on the INC 500/5000 list of America's fastest growing private companies for three years in a row (2010, 2011, 2012).
For more information, visit us at http://www.boston-technology.com