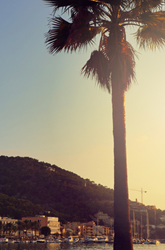 Comfort, concept and mood are the foundations we believe matter to the modern traveller.
(PRWEB UK) 10 June 2014
A growing number of people seem to be finding a lack of inspiration when making their travel plans. An overabundance of websites gives the holiday planner so many options and price points when they are searching the Internet. Review sites provide conflicting insight based on personal opinions and perspectives, and can be both helpful and confusing at the same time. None of these sources really aim to inspire travellers, or to speak to the true nature and essence of the destinations. Hunter Traveller, a new visual travel site created by designers, filmmakers and hotel consultants, is now meeting that need for people who want to plan their trips based on more than just prices and lists of amenities.
"Comfort, concept and mood are the foundations we believe matter to the modern traveller," says Laura Tennant, Co-founder of Hunter Traveller. "The new standard in luxury applies to the travel industry just as it does all other lifestyle products. And this is what we are about. Luxury is no longer status driven, or measured by price tag and prestige. We all love comfort, that should be a given when it comes to travel destinations, but we are looking for more. Mood, story, soul and contrast; this is what makes for a rich experience.
Tennant suggests that travellers might prefer to decide where to go based on the feeling of the location and how that matches up to the experience they want. She also suggests focusing on comfort and concept, terms she says will mean something different for everyone based on their individual preferences. Considering concept means considering what kind of over all experience a person is looking for. This might be immersion in rich and beautiful culture, seclusion on a romantic getaway, or a cool beach retreat. These three criteria can help anyone get the most out of their upcoming trip.
Hunter Traveller's website gives readers a look into the soul of Mallorca, the biggest Balearic island located in the Mediterranean Sea. "Mallorca was an obvious choice for our first website, mallorca.huntertraveller.com. We are privileged to know this great island well. Every season is beautiful, as are the people and the diverse mix of nationalities. Mallorca provides for the traveller like nowhere else. Mind, body and soul will feel relaxed and rejuvenated after a visit to this unique destination," continues Tennant. Hunter Traveller is the perfect place for any one to start on their journey to discovering their next getaway, based on comfort, mood and concept.
About Hunter Traveller
Hunter Traveller is a visually compelling website dedicated to sharing the heart and soul of Mallorca. Created by designers, film makers and hotel consultants, the website mixes valuable information about the culture on the island, the best places to stay, and the beautiful details that make this place so special. Hunter Traveller strays from the beaten track, and is deliberately aimed at the discerning the curious and the adventurous. The creators of the site believe that marks of quality are more than just luxury, location, price and aesthetics. Whatever the season, Mallorca is good for the soul. Visit http://huntertraveller.com for more information.