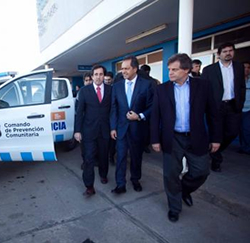 Together with COPsync, we are determined to help make communities safer in the United States, Latin America and all across the world.
San Antonio, TX (PRWEB) June 10, 2014
VidTac, the law enforcement industry's first fully-integrated high-definition software-driven video system for patrol cars will now be tested in the Community Prevention Command (CPC) in Mar del Plata, Argentina. It is a powerful tool that gives crime fighters the means to quickly retrieve video footage while providing high resolution images.
Making Sense, a leading multinational custom software development firm assisted COPsync, which operates the United States' largest real-time law enforcement information sharing, communication and data interoperability network, in developing VidTac.
Though headquartered in the US, Making Sense has a very strong presence in Latin America and is today the official representative of COPsyncs' product VidTac in this Region. The live demonstration will take place in Mar del Plata, home to Making Sense's main development centers and a city known for its high standards in education and IT talents. Some of the authorities present at the live demonstration were Sergio Andueza, who was first VP of Global Operations at the company and now serves in the role of advisor at the Security Secretary in Mar del Plata city. Other distinguished authorities present included Mar del Plata's Mayor Gustavo Pulti together with Daniel Scioli, current Governor of Buenos Aires Province, and also Buenos Aires province Security Minister Alejandro Granados.
"Together with COPsync, we are determined to help make communities safer in the United States, Latin America and all across the world," said Making Sense CEO Cesar DOnofrio. "We feel proud and honored to bring innovative technology currently being used in the United States to Latin American cities, helping them become a safer and more prosperous places to live in."
Making Sense affirms that VidTac offers state-of-the-art geolocation and mapping capabilities. It can be used to help power 911 dispatch and emergency command centers and could also provide monitoring and surveillance of public venues, bringing about a greater level of crowd safety.
VidTac has produced time and money savings for law enforcement agencies in the United States. The technology behind it promises to be an integral part of the Smart Cities project, helping governments in their efforts to make cities safer, more prosperous and to help them run more smoothly. It promises to revolutionize emergency response operations and public safety initiatives in Latin America and elsewhere.
Police department officials interested in how VidTac promises to benefit their departments can learn more at the COPsync website. Businesses and public safety officials in the US, Latin America and beyond that have a need for custom software and want to learn more about the services and products Making Sense offers can visit the company's website and its blog as well.
About Making Sense
Making Sense is an IT company that has specialized in the development and implementation of software and web applications for different companies since 2006. It has over 130 employees who work in different offices located in the United States, Argentina and Mexico.
The company offers the latest software development strategies, and has many partners worldwide. Some of its most prominent clients include Rackspace, DELL and AMD. The products Making Sense is well-known for include Doppler™, the most widely used email marketing tool in Latin America, which allows users to create, send, analyze and optimize email marketing campaigns very simply, quickly and effectively. Also Lander™, a software tool that enables the creation of professional landing pages in minutes and boasts active users in more than 132 countries worldwide.
In recognition for its work in fostering ArgenTIna IT outsourcing to the U.S., Making Sense received a special mention at the Polo IT Buenos Aires event in December 2012 and was chosen as the national representative to the United States ArgenTIna IT office in Austin, Texas.
Consistently demonstrating a high degree of technical excellence, Making Sense is passionate about maintaining strong commitments to offering outstanding service and quality custom software products.
In 2013, two products developed by Making Sense were nominated to receive the prestigious Sadosky Awards: VidTac (developed by Making Sense for COPsync) gives police department patrol cars high definition video capability while cutting equipment costs. It was developed through joint collaboration with COPsync, which operates the nation's largest real-time information sharing, communication and data interoperability network for law enforcement agencies.
The prestigious Sadosky Awards are awarded each year by CESSI, The Chamber of Software and Computer Services of Argentina, in honor of Manuel Sadosky, an illustrious scientist widely regarded as the father of the Argentinian computer science profession. They celebrate and honor excellence and innovation in the Argentinian software industry. Making Sense is pleased and honored to announce that its product Lander won the 2013 Sadosky Award in the category of Best Information Entrepreneurship Product and was also recognized by Awwwards winning "The Site of the Day" and "Developer Award" for the most useful, innovative, and responsive website development project.
Contact:
Making Sense LLC
Juan De Abreu
VP, Director of Client Services
866.976.8914
jdeabreu(at)makingsense(dot)com