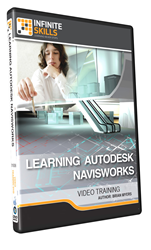 Learn Autodesk Navisworks 2015 at your own speed
(PRWEB) June 09, 2014
Software training firm Infinite Skills Inc. last week introduced its "Learning Autodesk Navisworks Tutorial," an introductory course teaching basic skills and the most important features for using this project review software in professional architectural, engineering, and construction practice.
The primary features of Navisworks enable the coordination, construction simulation, and whole-project analysis for integrated project review. The program's advanced tools can simulate models, help optimize scheduling, analyze clashes and interferences, and facilitate collaboration.
Infinite Skills Learning Autodesk Navisworks Training Tutorial introduces new users to the basic navigation and tool sets along with some of the most popular advanced features, allowing design professionals to begin using the program in a matter of hours.
Learning Autodesk Navisworks Tutorial DVD - Streaming
Course author Brian Myers has been working in Autodesk for more than two decades, starting in version 9 in 1989. He has been working professionally with Navisworks Manage for the last seven years. Myers was one of the first certified instructors for Revit Architecture. His training practice extends to most of the Autodesk line of programs, including Navisworks and Revit. He currently uses Navisworks as a BIM manager at a large engineering firm. Myers is the founder of Revit Users, a Revit support community found on LinkedIn.
Here, Myers teaches a fundamental understanding of the Navisworks interface and provides a solid basis in its most popular features.
The course starts with the user interface, explaining Navisworks workspaces, file formats, and essentials such as merging projects, refreshing and deleting files, navigation, selection, and more.
From there, Myers provides an overview of commonly used Navisworks tools, including hiding and moving objects, object properties, measure tools, viewpoints, animation recording, sections, and more.
Other chapters look in-depth at popular advanced features, including working with the timeliner in order to configure and export simulations, producing quantity takeoff reports, and creating and rendering animations using materials, mapping, lighting, and cameras.
"Navisworks is the industry standard for reviewing design data created for multiple design applications," Myers explains.
"In this series, we'll cover the best practices for popular Navisworks features to get you up and running as soon as possible."
Free demo videos and a full list of course contents can be found on the Learning Autodesk Navisworks training page on the company website:
http://www.infiniteskills.com/training/learning-autodesk-navisworks.html
Infinite Skills offers its Learning Autodesk Navisworks in DVD format and as a direct download from the company website at a retail price of $49.95, or as part of its new subscription service at a rate of $25.00 per month. All titles and formats are compatible with Mac and Windows operating systems. Shipping is available around the globe. Additionally, Infinite Skills tutorials are supported by project files which correspond to examples in the videos, allowing users to work alongside experienced instructors right on their computer or iPad.
About Infinite Skills Inc.
A leader in the field of software training, Infinite Skills designs its courses on a task-oriented model, teaching complex skills by providing hands-on examples and guiding users as they carry out essential functions. Infinite Skills offers a wide range of software titles available as DVDs, digital downloads, and in iPad editions. Infinite Skills now offers a subscription service, providing access to all its training content for a monthly fee, keeping with company's aim of delivering professional training to customers anywhere they want to learn.