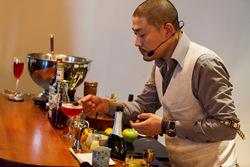 We find that most people in China are truly captivated by the cranberry's harvest cycle, health benefits, and culinary versatility. ~ Scott J. Soares, Executive Director, CMC
Wareham, Massachusetts (PRWEB) June 11, 2014
The Cranberry Marketing Committee USA introduced eight new cranberry cocktails ranging from no-alcohol mocktails to creative twists on traditional classics at a U.S. Cranberry Masterclass workshop held May 15 with master mixologist Eddy Yang.
The event kicked off with a comprehensive introduction to U.S. cranberry production regions, harvest methods, and health benefits by Scott J. Soares, Executive Director of the Cranberry Marketing Committee USA (CMC).
"We like to take a holistic approach to introducing the cranberry as we find that most people in China are truly captivated by the cranberry's harvest cycle, health benefits, and culinary versatility," said Mr. Soares. He explained to the approximately thirty attendees that the cranberry's health properties are not diminished by processing or cooking and can be used in many processed forms such as dried cranberries, sauce, juice or powder.
Participants were introduced to Mr. Yang's eight new signature drinks: Cranberry Apple Ice Tea, Cran Harvest Sparkle, Cranberry Shandy, Crancider Shandy, Cranberry Royal, Crangria, Cran Contrast and Cran Earlship. Having spent ten years in the United Kingdom and the United States, Eddy returned to his native China and is now DRiNK Magazine Ambassador and one of the preeminent faces of China's bartending community. He educates bartenders through competitions, masterclasses and videos.
Said Mr. Yang, "When I returned to China in 2010, I saw cranberry juice being used in some bars, however not many bartenders knew what it was. Now you can find cranberry products in shops, supermarkets, and many bars and restaurants. I believe that in the near future more and more consumers will understand cranberry products and enjoy them regularly. It is from this perspective that I have created these eight cranberry drinks for the first U.S. Cranberry Masterclass by CMC and DRiNK magazine in China."
Based on the level of interest shown at the Masterclass, it is expected that many attendees will return to their bars inspired to make their own cranberry cocktails, and more able to educate their colleagues and customers about U.S. cranberries. The CMC and DRiNK magazine will be jointly holding two additional U.S. Cranberry Masterclass tours in China in 2014.
The new cocktails are available in the Beverages/ Cocktails recipe section at us.cranberries.com.
About the CMC
The CMC was established as a Federal Marketing Order in 1962 to ensure a stable, orderly supply of good quality product. Authority for its actions are provided under Chapter IX, Title 7, Code of Federal Regulations, referred to as the Federal Cranberry Marketing Order, which is part of the Agricultural Marketing Agreement Act of 1937, as amended. This Act specifies cranberries as a commodity that may be covered, regulations that may be issued, guidelines for administering the programs, and privileges and limitations granted by Congress. For more information about the CMC, visit http://www.uscranberries.com. Follow at http://www.twitter.com/uscranberries and http://www.facebook/cranbecravers.