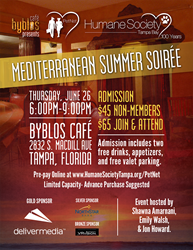 'PetNet Tampa involves the younger professional crowd…the 'up and comers,' and we want to be a part of that and a part of supporting their mission to benefit the Humane Society of Tampa Bay.'- Ziad Estephan
Tampa, FL (PRWEB) June 11, 2014
Byblos Café, located at 2832 S. MacDill Avenue in Tampa will open the doors of its Mediterranean/Lebanese cuisine restaurant to provide catered services to PetNet Tampa, the Humane Society of Tampa Bay's professionally-based fundraising arm. The networking and fundraising event is scheduled for June 26, 2014 at 6 p.m.
Ziad and Roger Estephan, the owners of Byblos Café, have provided the culture and taste of their home country since 2001.
"This community that we now call home has supported the success of Byblos Café for nearly 15 years. We have won several awards and editorial mentions, including an Award of Excellence from Trip Advisor just recently. We believe this is a way we can give back to our community," said Roger Estephan. "PetNet Tampa involves the younger professional crowd…the "up and comers," and we want to be a part of that and a part of supporting their mission to benefit the Humane Society of Tampa Bay."
Ziad Estephan winked, "There might even be doggie bags."
About Byblos Cafe
http://www.bybloscafe.com Byblos Café in South Tampa recently received an Award of Excellence from Trip Advisor and was voted one of the most romantic restaurants of Tampa Bay. Serving a wide selection of Mediterranean and Lebanese menu items, Byblos Café also offers business and event catering on and off-site. Byblos Cafe features outdoor dining, full bar, entertainment. @TampaByblosCafe on Twitter
About the Humane Society of Tampa Bay
http://humanesocietytampa.org The Humane Society of Tampa Bay (HSTB) was established in 1912 as the Hillsborough County Humane Society with the mission "to enforce the law applicable to the prevention of cruelty to children and cruelty to all animals of any description, capable of suffering, and to do everything and anything which is legal to prevent cruelty and harsh treatment to children and animals." It is one of the oldest corporations in the state of Florida. HSTB is an ASPCA® Mission: Orange™ member. @HumaneTampaBay on Twitter
About PetNet Tampa
http://www.humanesocietytampa.org/petnet PetNet Tampa orchestrates young professional networking events in Tampa, Florida to raise capital for the Humane Society of Tampa Bay. Members of PetNet Tampa help homeless animals at the Humane Society of Tampa Bay facility by attending PetNet Tampa events and paying membership dues. The PetNet Tampa board plans 5-8 events per year in Tampa. To register for upcoming events visit http://www.humanesocietytampa.org/petnet. Future event sponsorship opportunities are available. @PetNetTampa on Twitter
About Deliver Media
http://www.delivermedia.com Deliver Media is a Tampa-based agency providing innovative integrated marketing services for businesses. They provide full-service marketing and advertising services from targeted postcard marketing and direct mail campaigns to fully-functional website development. Deliver Digital, a sister company of Deliver Media, provides internet presence management, pay-per-click advertising, search engine optimization, social media management, review monitoring/management, video marketing, and content creation. @Deliver_Media on Twitter
To participate or for more information about the PetNet Tampa event, please contact petnet(at)humanesocietytampa(dot)org or Emily Walsh at Deliver Media, 800-377-4683 or email Emily.Walsh(at)DeliverMedia(dot)com.