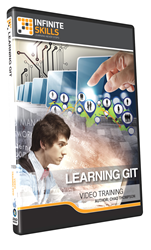 Learn Git at your own pace
(PRWEB) June 10, 2014
Software training firm Infinite Skills Inc. this week introduced its "Learning Git Tutorial," an introductory course designed for experienced developers introducing the widely used and highly innovative method for versioning and tracking source code, including working with GitHub, the online community for exploring open-source projects and private collaboration.
Git is an open-source source code management system used for versioning and tracking source code files as well as providing methods for tracking the history and progress of software projects.
With Infinite Skills' Learning Git Tutorial, developers can get familiar with the basic use and key features of this powerful source code management system, allowing students to work with Git's revision control system and begin using and contributing to the GitHub community.
Learning Git Tutorial Video - Streaming
Course author Chad Thompson has been a working software developer for more than 15 years. His experience ranges from large implementation projects, working with hundreds of programmers, to working with small teams building particular products in close collaboration. Thompson is currently a development and operations engineer with a medium-sized web company, where he helps programmers learn to use Git to collaborate in local and virtual offices.
Here, Thompson begins by explaining the basics of Git, including an overview of the source control and the particular traits of the Git system, including the basics of working with Git servers and clients.
The course then explains how to install Git's SourceTree for both Windows and OS X, and explains how to begin creating repositories for source code files, as well as how to make changes, add files, and keep source code in sync.
Thompson continues with a detailed look at branches and tags, explaining how to create and share branches using SourceTree, how to merge branches and resolve conflicts, and much more.
The course concludes by exploring the social features of GitHub, an online, cloud-hosted site where developers can interact with other developers and their projects.
"In this course, we're going to learn about source control and how Git is a distributed source control system that plays into source control workflows and may be different in some respects from other products you may have used," Thompson explains.
"We'll cover using Git in a daily workflow to manage source control, work with other developers, and find and contribute to interesting open source projects."
Free demo videos and a full list of course contents can be found on the Learning Git Tutorial training page of the Infinite Skills website:
http://www.infiniteskills.com/training/learning-git.html
Infinite Skills offers its Learning Git in DVD format and as a direct download from the company website at a retail price of $49.95, or as part of its new subscription service at a rate of $25 per month. All titles and formats are compatible with Mac and Windows operating systems. Shipping is available around the globe. Additionally, Infinite Skills tutorials are supported by project files which correspond to examples in the videos, allowing users to work alongside experienced instructors right on their computer or iPad.
About Infinite Skills Inc.
A leader in the field of software training, Infinite Skills designs its courses on a task-oriented model, teaching complex skills by providing hands-on examples and guiding users as they carry out essential functions. Infinite Skills offers a wide range of software titles available as DVDs, digital downloads, and in iPad editions. Infinite Skills now offers a subscription service, providing access to all its training content for a monthly fee, keeping with company's aim of delivering professional training to customers anywhere they want to learn.