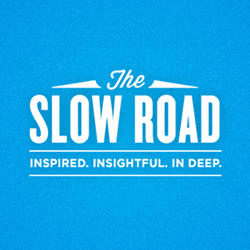 Toronto, ON (PRWEB) June 10, 2014
The Slow Road travel blog, the official blog of the world's premier active travel company Butterfield & Robinson, was named a Best Blog winner in the Travel + Leisure Social Media in Travel & Tourism (SMITTY) Awards 2014.
Harnessing Butterfield & Robinson's nearly 50 years of industry expertise and the travel intelligence of a worldwide network of trip designers and guides, The Slow Road's goal is to not just cover a region, but provide its readers with the insight, experience and expertise they need to immerse themselves in it.
"We're always mindful of our motto – Slow Down to See the World – when planning our trips, and we apply the same ethos to our blog content," says B&R President Norman Howe. "It's a thrill to be recognized for doing online what B&R's been doing for nearly half a century: introducing people to our favourite places in the world by sharing our knowledge and passion."
Launched in March of 2013, B&R's blog complements its online trip portfolio of biking, walking, cultural and private adventures to the world's most amazing places.
Butterfield & Robinson—the world's premier active travel company—designs incredible journeys to the world's most amazing places. Crafted from the finest ingredients (exceptional lodgings, incomparable access, stellar wines and food, experienced guides and more than a few secrets), B&R trips combine adventure with unparalleled cultural immersion in the world's greatest destinations.