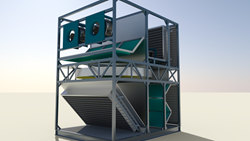 KyotoCooling® raises the bar again with new and innovate ways to cool a data hall.
Chicago, IL (PRWEB) June 10, 2014
Air Enterprises is excited to announce that Chris Fulton, VP, Sales & Marketing KyotoCooling® and Russ Elkins, Marketing Director will be exhibiting groundbreaking new concepts at this year's 3rd Annual Greater Chicago Data Center Summit at the the Holiday Inn Mart Plaza Hotel, Chicago, IL on Thursday, June 12, 2014. In addition to the long-running and proven KyotoCooling® system, the representation at this event will launch the release of an innovative one-piece, plug and play, 100kW cooling unit. The concept focuses on the replacement of traditional and inefficient computer room air conditioning (CRAC) units with an all-in-one system using the KyotoWheel™ to obtain free cooling.
This event is Greater Chicago's largest one-day market intelligence and networking event for data center real estate, connectivity and technology infrastructure executives. 50 speakers will participate in 12 panels; 500+ are expected to attend. Air Enterprises will be on hand to answer questions, discuss and explain how this innovative KyotoCooling® Series 100 product differentiates on energy efficiency, flexible deployment, ease of installation and total installed cost.
For more information about the KyotoCooling® presentation in Chicago please contact:
Chris Fulton
VP, Sales and Marketing KyotoCooling®
+1 216-916-6625
cfulton(at)airenterprises(dot)com
For more information on attending The 3rd Annual Greater Chicago Data Center Summit visit: http://cre-events.com/dcchicago2014/.
About KyotoCooling®
KyotoCooling® is the leading, energy-optimized cooling solution for data centers. It is also the "greenest" solution, delivering energy savings of up to 85 percent over other cooling designs. KyotoCooling® is able to maintain precise balance in pressure between cold and hot spaces to deliver an optimal operating environment. By precisely controlling the flow of air in the data center, KyotoCooling® has delivered energy efficiency in North America and Europe ranging from a PUE of 1.05 to 1.15. KyotoCooling® designs have been in continuous production use since 2007 worldwide. Clients include Hewlett Packard, Bell Canada, United Airlines, Rogers Communication, Quicken Loans, KPN and many more leading energy efficient firms.
http://airenterprises.com/series-100/
About Air Enterprises
Air Enterprises designs, engineers and manufactures custom air handling solutions to meet any system configuration or space requirement. The Company has special expertise across many industries, including automotive, data centers, healthcare, industrial, pharmaceutical, and educational markets. With 50 years of application experience and a focus on energy savings and sustainability, Air Enterprises partners with the client to deliver the most efficient solution at the lowest total cost.
http://airenterprises.com