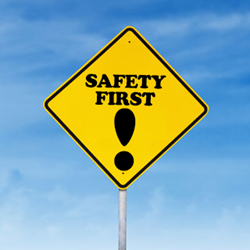 'The customer needs to be at the center of everything companies do. Custom labels play a large role in making hazards and safety instructions apparent,' said AnneMarie Campbell, Director Business Development Lightning Labels.
Denver, CO (PRWEB) June 10, 2014
June is National Safety Month, help observe the month by ensuring you are utilizing custom labels on your products to identify all warning and hazard indications are listed to protect the safety of your consumer. Lightning Labels, a custom label and sticker printing company, has vast experience in printing these types of labels to ensure products are clearly marked to prevent any dangerous use.
Many people are injured or hospitalized every year because of improper use or consumption of products. The CDC found that more than 15,000 people die annually from overdoses of prescription medicine. Among adults between the ages of 35 to 54 years, unintentional drug overdoses cause more deaths than motor vehicle crashes.
That's only one category of products. Improper use of tools and equipment, cleaning chemicals, makeup and some food products can result in sickness, injury and even death if used or consumed incorrectly. The onus of improper use can fall on the company, and by having specific hazard and usage warnings on labels, brands can go a long way in helping protect their own customers.
"The customer needs to be at the center of everything companies do. Custom labels play a large role in making hazards and safety instructions apparent. Not only must warnings be present on the product label, they should also be positioned and presented in a way that's easy for customers to see," said AnneMarie Campbell, Director Business Development Lightning Labels.
Custom Stickers Draw Attention to Safety Warnings
Although businesses can never control their customers and force them to use products in a correct and safe manner, by making warnings and hazards a central focus with custom stickers, they can convey the importance of safety.
Many companies design their product labels as advertising tools, but the same focus should also be placed on safety warnings. By making warnings and usage instructions obvious, manufacturers can at least be sure people are aware of all the dangers of misusing the product or equipment.
Companies can draw attention to safety warnings by using graphic symbols such as a skull and crossbones. They could also use vibrant colors such as red and yellow to catch the eye of customers who may just be quickly looking over the label.
Lastly, a custom waterproof sticker or perhaps a temperature treated sticker could be appropriate, depending on the type of product in need of a safety warning.
Safety Labels are Critical to Ensure Safe Customers
It's in the best interest of companies' to ensure people are using their products appropriately, and safety labels are important to achieve that goal. Safety precautions are generally a required part of labels, but they can also prevent customers from having a bad experience with an item, which can ensure customer loyalty for future purchases.
Whether companies produce medicine or heavy equipment, safety labels are a must. A custom label printing company such as Lightning Labels can provide you with the stickers you need to keep your customers safe.
Lightning Labels is now offering 15 percent off new label orders through June 27, 2014, using promo code SUMMER14 at checkout. Note that this does not apply to reorders. Maximum discount is $1,000. Free ground shipping applies to orders placed online only and shipped within the U.S. and Canada. This offer is not valid on reorders and cannot be combined with any other offers or promotion. Visit Lightning Labels.com for more information or updated promotions.
About Lightning Labels:
Lightning Labels uses state-of-the-art printing technology to provide affordable, full-color custom labels and custom stickers of all shapes and sizes, and now offers a full line of custom packaging products. From small orders for individuals, to the bulk needs of big businesses, Lightning Labels is equipped to handle and fulfill custom sticker, label and product packaging projects of all types. Best of all, like the name implies, Lightning Labels provides a quick turnaround to every customers' labeling and product packaging needs. Uses for Lightning Labels' custom product labels and custom stickers include food packaging and organic food labels, wine and beverage labels, bath and body labels, and nutraceutical products, such as vitamins, essentials oils, and herbal remedies, as well as event stickers, adhesive window stickers and more. Lightning Labels strongly supports the development of environmentally friendly printing materials and carries EarthFirst PLA, a new kind of green label material made from corn instead of petroleum. While operating as a high-tech printer, Lighting Labels prides itself on its personalized customer service. Lightning Labels provides one stop shopping for all of your label and product packaging needs. For more information and to place orders online, visit LightningLabels.com. For the latest in packaging news and labeling promotional offers, find Lightning Labels on Twitter (@LightningLabels), Facebook, Pinterest, Google + and LinkedIn.