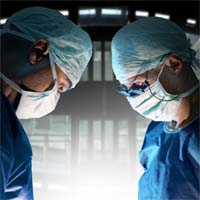 HIPEC with carboplatin...is associated with improved overall survival and shorter hospital stay...
Raleigh, NC (PRWEB) June 12, 2014
Researchers studying the peritoneal mesothelioma treatment approach that combines cytoreductive surgery (CRS) with a wash of heated chemotherapy (HIPEC) have concluded that one drug appears to work better than another for this purpose. Click here to read the details of the article just posted on the Surviving Mesothelioma website.
Surgeons at Creighton University Medical Center in Omaha, Nebraska compared the outcomes of 44 mesothelioma patients who had CRS/HIPEC treatment over a 7-year period. Some were treated with carboplatin while others received an antibiotic cancer drug called mitomycin.
"HIPEC with carboplatin in diffuse malignant peritoneal mesothelioma is associated with improved overall survival and shorter hospital stay compared with HIPEC with mitomycin," concludes lead author Shreya Shetty, MBBS.
The new study published in The American Surgeon found that carboplatin patients spent six fewer days in the hospital and significantly less time in intensive care than those treated with mitomycin. Ninety percent lived for at least a year and 62.5 percent were still alive five years after treatment.
"Mesothelioma patients and their doctors can't afford to spend more time than they have to trying to determine which drug is going to deliver the best results," observes Alex Strauss, Managing Editor of Surviving Mesothelioma. "This study may help make that decision easier for some people."
To read more results of the new study, including survival times, hospital stays, and time in intensive care with both drugs, see Platinum Drug Beats Antibiotic for Peritoneal Mesothelioma Treatment available now on the Surviving Mesothelioma website.
Shetty, SJ et al, "Comparison of cytoreductive surgery and hyperthermic intraperitoneal chemotherapy with mitomycin or carboplatin for diffuse malignant peritoneal mesothelioma", April 2014, The American Surgeon, pp. 348-352, http://connection.ebscohost.com/c/articles/95315572/comparison-cytoreductive-surgery-hyperthermic-intraperitoneal-chemotherapy-mitomycin-carboplatin-diffuse-malignant-peritoneal-mesothelioma
For nearly ten years, Surviving Mesothelioma has brought readers the most important and ground-breaking news on the causes, diagnosis and treatment of mesothelioma. All Surviving Mesothelioma news is gathered and reported directly from the peer-reviewed medical literature. Written for patients and their loved ones, Surviving Mesothelioma news helps families make more informed decisions.