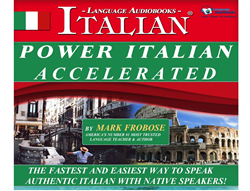 With LanguageAudiobooks.com you learn languages everywhere. - Mark Frobose/Founder
Champaign, Illinois (PRWEB) June 10, 2014
Mark Frobose, founder of LanguageAudiobooks.com, the nation's leader in versatile audio language programs, was interviewed last Friday by Neal Howard, the US/Canadian producer and host for Health Professional Radio.
The subject of the interview? How to learn to speak foreign languages everywhere.
During the interview, Mark was asked why he spent a lifetime teaching people how to learn new languages. Frobose responded by saying, "I want to share the gift of language learning with everyone."
According to Mark, the best way to learn a language is with audio language programs that you take with you everywhere you go.
"That way you get to use life's many waiting periods to learn languages," explains Frobose, whose Power Spanish Accelerated is a bestselling audio language download on Audible.com.
Learn Languages Everywhere™ is the motto of LanguageAudiobooks.com. The Language Audiobooks® method is an extremely effective and versatile audio language learning system that can be used anywhere for any duration of time to teach people to speak any language while in the car, at home or on a smartphone! Designed specifically for use while on the go, this challenging, versatile and fast-paced method introduces, reviews and challenges language learners to interact successfully in spoken languages from any location so they can learn to speak any language of your dreams during otherwise wasted down time.
Language Audiobooks Inc. also specializes in downloadable digital language programs and CD programs like the bestselling Power French Accelerated which are extremely fast and easy to learn and that are immediately accessible to any smart phone or computer. The Language Audiobooks' motto is "Learn Languages Everywhere™".
The company's founder and CEO Mark Frobose is an expert language teacher who created the entire language audio line for Macmillan Audio of New York including the bestselling "Behind the Wheel French" program. For over a quarter of a century, Mark has created and produced more successful audio language programs than any other living individual in the world today. His bestselling Power Spanish Accelerated is rapidly becoming the nation's favorite all-time Spanish program.
Language Audiobooks' popular Power Spanish, Power French, and Power Italian, Bite-Sized Mandarin, Conversational Latin-American Spanish, Clean French Slang and other innovative language programs are available for download now at Audible.com or in CD format at Amazon.com.