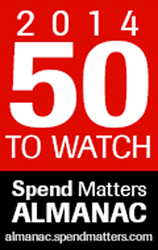 Charlotte, NC (PRWEB) June 10, 2014
Verian, the leader in helping organizations achieve world-class cost control, has been named to the 2014 "Spend Matters 50 Providers to Watch" list appearing in the new Spend Matters Almanac released earlier this year.
Spend Matters named Verian to the 50 to Watch List as an "exciting and up-and-coming player in the procurement sector," and a solution provider that the general procurement and supply chain community will benefit from learning more about.
"Verian stands out as having one of the broader and deeper footprints within broader P2P, including eProcurement, invoice automation, asset management, inventory management and T&E", said Jason Busch, Group Managing Director of Spend Matters. "Verian can go head-to-head with some of the bigger name P2P providers…and we'd be hard pressed not to put Verian on a shortlist in North America."
The Spend Matters Network™ is the largest independent global B2B research and intelligence provider, serving as the leading and most influential online resource for professionals in the strategic sourcing, procurement, and supply chain sectors.
Curated by Spend Matters editors and analysts, the Spend Matters Almanac covers software firms, outsourcers, data providers, research firms, consultants, and similar organizations that serve the procurement and supply chain market.
"We're very pleased to be named to the Spend Matters 50 Providers to Watch List," said Tehseen Ali Dahya, President and CEO of Verian, "Spend Matters is one of the world's most authoritative market resources, and our appearance on this list reinforces our commitment to providing cutting-edge purchase-to-pay solutions."
For additional details about Verian's selection to the 50 to Watch List, click here to read the full article on Spend Matters. To learn more about the Verian solution suite and the advantages of the Verian software platform, visit the Solutions area of the Verian website, or contact Verian today to schedule a demo.
About Verian
At Verian, we help organizations achieve world class cost control by putting all spending details at their fingertips in our broad, comprehensive purchase to pay software suite. With over 200 successful implementations, we get it right the first time, configuring software solutions that address companies' unique challenges and industry specific complexities. We drive value beyond implementation by helping organizations bring every pocket of spend under management with our proven See-Manage-Save approach. Learn more by visiting our website at Verian.com, or by reading our Verian blog. Stay current on Verian happenings by following us in social media on LinkedIn, Facebook, or Twitter.