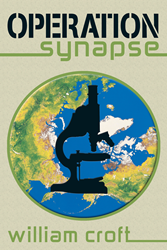 'This was a great fraud placed on the people of the world; pharmaceutical and insurance companies side stepped their responsibilities due to greed,'Croft says. 'The public will be very interested in how these institutions have broken the common trust.'
MADISON, Wisc. (PRWEB) June 11, 2014
What is scarier than disease? Mass cover-up of the cause.
Dr. William Croft has successfully identified illness utilizing anatomic pathology for over 38 years, including diagnosing toxic mold, arsenic, petroleum, asbestos, and Chronic Wasting Disease in humans.
Croft's latest discovery involves serious controversy: Man-made prions were used in the 1980s as a disguised disease to explain mad cow disease, chronic wasting disease and other ailments and deaths, which were actually caused by pesticide poisoning.
Croft's research and discoveries about this bioterrorism conspiracy and insurance company cover up are found in his new thrilling story, Operation Synapse, a well-documented book that lifts the veil that has been covering the public's eyes since the late 1980s.
"This was a great fraud placed on the people of the world; pharmaceutical and insurance companies side stepped their responsibilities due to greed," Croft says. "The public will be very interested in how these institutions have broken the common trust."
Determined to inform the United States and other countries around the world that pesticides are the actual cause of mad cow disease and chronic wasting disease, Operation Synapse is an eye-opening story about a major conspiracy that has been taking place for the past 27 years.
Operation Synapse by William Croft
Hardcover, $31.99
Paperback, $23.95
e-Book, $3.99
ISBN: 978-1-45671-352-2
Available at http://www.williamcroft.com and bookstore.authorhouse.com.
About the author
William Croft earned a bachelor's degree in physiology from the University of Wisconsin and a doctorate in veterinary medicine from the University of Minnesota. He later earned a Ph.D. in medical pathology from the University of Wisconsin, which gave him the tools to study the cause and effect relationship of human and animal illnesses. Employed as an anatomical pathologist on the UW-Madison faculty he obtained over $900,000 in grant resources to study human disease regarding early detection, diagnosis, mechanism of action, and possible therapeutic methods. Croft also investigated environmental medical health emergencies related to pesticides, solvents, petroleum, heavy metals, phenol, asbestos and toxic mold found in sick buildings. The opportunity to study Chronic Wasting disease in the whitetail deer population in Montana revealed the poisoning that had been hidden for over 27 years. Croft shares this exciting and important discovery in his new fiction based on well-documented fact, "Operation Synapse."