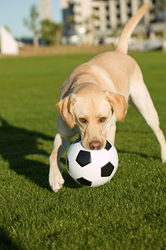 Brea, CA (PRWEB) June 11, 2014
Are German shepherds pulling for the German national soccer team? Are American bulldogs rooting for the "Stars and Stripes?" Are Yorkshire terriers cheering on Wayne Rooney?
As elite teams from around the world gather in Brazil for the 2014 FIFA World Cup™, many of the 32 countries competing are represented by dog breeds that most of us recognize but may not know their country of origin. In the spirit of the World Cup, Veterinary Pet Insurance, the nation's first and largest provider of pet health insurance, recently reviewed its database of more than 500,000 insured pets to break down the country where many dog breeds began. The following is a look at six World Cup teams that also have a number of notable breeds that originated from their country.
United States: American Husky, American Bulldog, American cocker spaniel, Boston terrier, Chesapeake Bay retriever.
England: Beagle, English mastiff, Jack Russell terrier, Whippet, Yorkshire terrier.
Germany: Boxer, Dachshund, Doberman pinscher, German shepherd, Schnauzer
France: Briard, Brittany spaniel, French bulldog, Papillon, Poodle.
Italy: Cane corso, Italian greyhound, Italian shepherd, Maltese.
Russia: Black Russell terrier, Borzoi, Russian spaniel, Samoyed, Siberian husky.
In addition to the countries listed above, below is a list of countries that qualified for the World Cup and are represented by at least one dog breed:
Argentina (Argentine dogo), Australia (Australian shepherd), Belgium (Bloodhound), Brazil (Fila Brasileiro), Chile (Chilean fox terrier), Croatia (Dalmation), Greece (Greek harehound), Japan (Akita), Mexico (Chihuahua), Netherlands (Keeshond), Portugal (Portuguese water dog), Spain (Ibizan hound), Switzerland (St. Bernard).
For more information about specific dog breeds, including tips for choosing the right pooch for you and your home, visit the VPI Pet HealthZone.
About Veterinary Pet Insurance
With more than 500,000 pets insured nationwide,Veterinary Pet Insurance Co./DVM Insurance Agency (VPI) is a member of the Nationwide Insurance family of companies and is the oldest and largest pet health insurance company in the United States. Since 1982, VPI has helped provide pet owners with peace of mind and is committed to being the trusted choice of America's pet lovers.
VPI Pet Insurance plans cover dogs, cats, birds and exotic pets for multiple medical problems and conditions relating to accidents, illnesses and injuries. CareGuard® coverage for routine care is available for an additional premium. Medical plans are available in all 50 states and the District of Columbia. Additionally, one in three Fortune 500 companies offers VPI Pet Insurance as an employee benefit. Policies are offered and administered by Veterinary Pet Insurance Company in California and DVM Insurance Agency in all other states. Underwritten by Veterinary Pet Insurance Company (CA), Brea, CA, an A.M. Best A rated company (2012); National Casualty Company (all other states), Madison, WI, an A.M. Best A+ rated company (2012). Pet owners can find VPI Pet Insurance on Facebook or follow @VPI on Twitter. For more information about VPI Pet Insurance, call 800-USA-PETS (800-872-7387) or visit petinsurance.com.