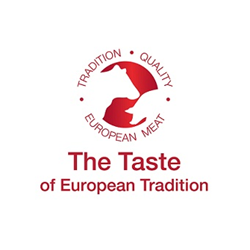 New York, NY (PRWEB) June 09, 2014
The promotional campaign implemented by the Union of Producers and Employers of Meat Industry (UPEMI), promoting the advantages, quality and principles of production of fresh, refrigerated or frozen beef and pork continues on the 2014 promotional tour in Chicago this month.Modern consumers attach particular importance to the origin of food. For beef and pork and food products made from these types of meat, what matters in particular are farming methods. These include the traditional rearing of animals, which enjoys a lot of confidence with the consumers and which has never been abandoned by cattle and pig farmers in Europe, who have thus developed strong foundations for the functioning of the meat industry. This attitude is not only nostalgic but also results from the actual expectation of high quality meat, safety and animal welfare. These traditional methods are now additionally supported and updated by modern techniques and regulations enforced by both the European Union and individual member states.
These traditions are based on trust and relationships. Many farms in the EU are small or medium size, family run establishments where knowledge is passed on through many generations. Most frequently, animals spend their entire lives on the same farm, grazing on green pastures in summer and wintering in barns. Often, producers live close to town centers and marketplaces, and consumers know either the producers or the specialty shop where most products are sold. In such an environment, quality becomes very important as both producers and consumers know each other and meet every day. Such close relationships improve communication between consumers and producers, make it more effective and ensure that information about the requirements of individual customers' reach representatives of the industry undistorted and without unnecessary delay.
Building on these traditions and responding to the needs of demanding consumers, the European Union has instituted regulations which, while incorporating modern technology, were designed to ensure that quality and the safety of meat and meat products are not compromised as farms and production establishments are modernized. In the EU, every animal is fully traceable with its own ID number, a 'passport' system. It includes detailed information about the animal which makes it possible to learn about its entire history: where it was raised, what vaccines or medications it was given, where it was slaughtered and butchered, sometimes even what it was fed. Thanks to the passports, the producer can convey reliable information to the consumers on the packaging of the final product. Very restrictive EU regulations also prevent the presence of antibiotics and growth hormones in meat. Finally, the EU is instituting strict regulations regarding animal welfare issues, such as the use of gestation crates for saws. Other regulations include the ban on group pens. The result of these traditional methods and modern regulations is meat of high quality, with extraordinary culinary properties, tasty and nutritious, originating from cattle and pigs raised more naturally, with less stress. While animals take a bit longer to reach slaughter weight and production costs might be slightly higher, this is a trade-off that demanding modern consumers willingly make.
Upcoming events in Chicago: lunch for the press and trade seminar on June 10th and 11th 2014 will be an opportunity to obtain reliable information from EU experts.
During the meetings, it will also be possible to sample traditional European dishes prepared by master chefs from Europe. Also, during the delegation's visit to Chicago, "Berghoff's Chicago will host a promotional event featuring beef and pork from the EU. It will be called "The Flavors of Europe" and will be an opportunity to taste traditional European dishes from a specially designed menu. The organizers would like invite all those who are looking for new flavors.
The campaign's presence in Chicago will also feature a series of individual B2B meetings. Participants will be able to talk to EU meat industry representatives, broaden their knowledge about it and, most importantly, do some business networking.
About UPEMI:
Union of Producers and Employers of Meat Industry (UPEMI) is a trade organization operating in Poland since December 2005. As an entity widely representing the Polish meat sector, UPEMI very precisely defines and implements its statutory responsibilities. Its basic goal is to support member companies in all aspects of their operation on the food market and act towards the development and promotion of the national tradition and potential as well as the European meat sector.
UPEMI's activity is focused around the following strategic areas:
representing the interests of producers and employers in the meat sector before national authorities as well as national and international organizations;
providing support to UPEMI members in their current operations by offering legal and organizational advice, training, intervention, information and recommendations;
promoting Polish food on the international arena;
contributing to the increase in food production and extraordinary quality and increase in consumption of Polish food;
raising funds for the promotion of meat and meat products;
supporting the export of Polish and European food.