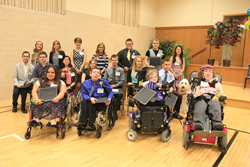 We're proud that every dollar we receive for the program goes directly to these exceptional students and helps provide them with the resources they need to succeed -- Kathleen Yosko, Marianjoy President and CEO
Wheaton, Illinois (PRWEB) June 09, 2014
This year, the Marianjoy Scholarship Program awarded more than $57,000 in scholarships to 23 young men and women with disabilities from the Chicagoland area pursuing post-high school education.
The amount of scholarship funding awarded — and the number of applications received — was the most in the history of the scholarship program, which celebrated its 20th anniversary on June 5. To date, the program has provided more than $750,000 to deserving students.
This year's scholars, many of whom are current or former Marianjoy Rehabilitation Hospital patients, demonstrated academic excellence and are attending colleges and universities across the country, including Purdue University, Indiana University, the University of Alabama, St. Louis University, North Central College, Valparaiso University and Hope College, among others.
"This scholarship program is only possible through the generous contributions of our donors," said Kathleen Yosko, Marianjoy President and CEO. "We're proud that every dollar we receive for the program goes directly to these exceptional students and helps provide them with the resources they need to succeed."
For nearly 40 years, Marianjoy has remained an advocate for individuals living with a disability. Though pursuing a college degree is not easy for anyone, doing so while living with a physical disability requires an even greater degree of determination, stamina and focus which is why the Marianjoy Scholarship Fund was established. This year's recipients include young men and women studying architecture, literature, medicine, computer science, broadcasting and teaching.
Recipients this year include:
William Belles of Yorkville
Lauren Bryant of Wheaton
Ryan Dabrowski of Orland Park
Theresa Eberhardt of Yorkville
Jessica Ebersole of Oak Park
Steven Fako of Orland Park
Daniel Freeman of Wheaton
Tori Hamiel of LaSalle
Daniel Loftus of Elk Grove Village
Jake Mabus of Mount Pospect
Jenalee Moran of Arlington Heights
Noah Mussay of Lockport
Tatiana Naborowski of Oak Brook
Carol Pena of Plainfield
Jennifer Piasecki of Lockport
Cassandra Powers of Wheaton
Gianna Puccinelli of West Chicago
Juleah Puccinelli of West Chicago
Rafael Rico of Chicago
Marina Salman of Oak Lawn
Chase Smith of Aurora
Guadalupe Solorio of Hazelcrest
Tara Tsaparis of Wheaton
Marianjoy Rehabilitation Hospital is a nonprofit teaching hospital in Wheaton, Illinois, dedicated to the delivery of physical medicine and rehabilitation programs including stroke, neuromuscular, orthopedic, brain injury, spinal cord injury, and pediatrics. Marianjoy's state-of-the-art, 128 private room replacement hospital is designed to provide rehabilitative care in a naturally holistic setting. Founded in 1972, Marianjoy Rehabilitation Hospital maintains an extensive network of inpatient, subacute, and outpatient sites and physician clinics throughout the Chicago area. Marianjoy is a member of Wheaton Franciscan Healthcare. To learn more, visit http://www.marianjoy.org.