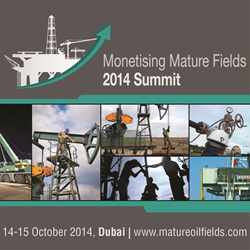 It's an IRN Summit!
London (PRWEB UK) 10 June 2014
Mature fields account for over 70% of the world's oil and gas production, and with a soaring global hydrocarbon demand, the need to both develop new and existing production assets in a cost effective way has never been more important. The Monetising Mature Fields 2014 Summit will evaluate the most prominent examples of mature fields across the world, from North America to Europe and Middle East.
Under the guidance of a strong Advisory Committee, including distinguished speakers from the Government as well as major international operators and service providers, the high profile meeting will examine the key issues faced by mature field operators today; it will look into the best global practices from North America, Europe and the Middle East; and assess what opportunities the latest technologies hold for companies to maintain and radically extend the life cycle of their mature field production portfolio.
The two day Summit will gather the key players of the industry in the comfort of a 5* venue in Dubai. There will be a number of networking opportunities to allow attendees to meet with the executives relevant to their business objectives and forge valuable business relationships.
More information can be found on the website http://www.matureoilfields.com.
For registration information and to enquire for the complete brochure, please contact Lola Bourget at LolaB(at)irn-international(dot)com.