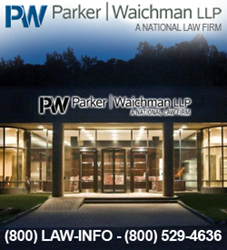 "It is critical to consumer health that drug makers do not violate federal regulations by promoting drugs for uses that have not been adequately studied and for which the FDA has not given approval," said Gary Falkowitz, Esq. of Parker Waichman LLP
Port Washington, NY (PRWEB) June 10, 2014
Parker Waichman LLP, a national law firm representing the victims of defective drugs is commenting on a recent settlement by drug maker, GlaxoSmithKline, over allegations involving the way in which Advair, Paxil, and Wellbutrin were marketed and how the drugs were promoted for off-label uses. According to a The Chicago Tribune report dated June 4, 2014, GlaxoSmithKline promoted the asthma medication, Advair, and the antidepressants, Paxil and Wellbutrin, for purposes that have not received U.S. Food and Drug Administration (FDA) approval.
The $105 million settlement resolves an array of allegations and involves attorney generals (AGs) from 44 states and the District of Columbia. The states involved are: Alabama, Arizona, Arkansas, California, Colorado, Connecticut, Delaware, Florida, Georgia, Hawaii, Idaho, Illinois, Indiana, Iowa, Kansas, Kentucky, Maine, Maryland, Massachusetts, Michigan, Minnesota, Missouri, Montana, Nebraska, Nevada, New Jersey, New Mexico, New York, North Carolina, North Dakota, Ohio, Oklahoma, Oregon, Pennsylvania, Rhode Island, South Dakota, Tennessee, Texas, Utah, Vermont, Virginia, Washington, Wisconsin and Wyoming. The People of the State of California v. GlaxoSmithKline LLC, Case Number: 37-2014-00017975-CU-MC-CTL. The AGs accused GlaxoSmithKline of violating consumer laws by promoting the drugs for off-label uses—uses not approved by federal regulators, wrote The Chicago Tribune. (June 4, 2014)
"It is critical to consumer health that drug makers do not violate federal regulations by promoting drugs for uses that have not been adequately studied and for which the FDA has not given approval," said Gary Falkowitz, Managing Attorney at Parker Waichman LLP. "When off-label marketing is conducted by drug makers, not only are a number of laws being violated, but physicians and consumers are led to believe that the drugs they are taking are safe for uses that have not been appropriately studied."
The settlement with the states involves allegations that go back about 14 years, according to a Mod Vive report dated June 4, 2014. According to the AGs' allegations, GlaxoSmithKline promoted Advair to treat mild asthma, despite the fact that the drug was not approved for that use; marketed Paxil and Wellbutrin as being safe and effective in the treatment of children and teenagers, which is also an unapproved use; and marketed Wellbutrin as an off-label medication for weight loss and for the treatment of attention deficit disorder, addiction, anxiety, and bi-polar disorder, wrote The Chicago Tribune. (June 4, 2014)
GlaxoSmithKline has been mandated to change its marketing and promotional practices; to continue its "Patient First Program" for five years; and to ensure that scientifically trained personnel create and approve answers to health care provider questions so that responses are not biased and not meant to promote a specific drug, according to The Chicago Tribune.
The "Patient First Program" must be continued to at least March 2019, according to a The Dayton Business Journal report dated June 5, 2014. The program is meant to minimize financial incentives for sales representatives to engage in marketing practices considered deceptive.
The drug maker did not admit wrongdoing or liability under the settlement and indicated that this agreement is similar to a prior settlement reached in 2012 with the federal government. In 2012, GlaxoSmithKline agreed to a $3 billion criminal and civil settlement with the government after federal authorities claimed GlaxoSmithKline utilized illegal marketing strategies in its promotion of Advair, according to Mod Vive. (June 4, 2014)
"By promoting medications for unauthorized uses, drug makers are placing people at significant risk for potentially serious and life-altering adverse reactions," said Gary Falkowitz, Managing Attorney at Parker Waichman LLP. "Unknowing consumers should not be used to test out a drug's uses and our firm continues to pursue lawsuits on behalf of individuals who have suffered adverse reactions for drugs used for off-label, unapproved uses."
Parker Waichman LLP has long offered free legal consultations to victims who suffered adverse health effects after using medications prescribed for off-label uses. If you or a loved one suffered an adverse reaction due to a drug prescribed for uses not approved by the FDA, please contact the Firm by visiting yourlawyer.com. Free case evaluations are also available by calling 1-800-LAW-INFO (1-800-529-4636).