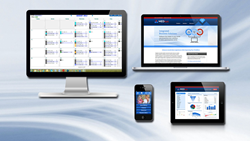 "We are very excited that we have finally found a state of the art software product that will save time, integrates all the client, employee and back office information and has customized reporting."
Perrysburg, OH (PRWEB) June 10, 2014
MEDsys Software Solutions, an industry leader in software solutions for the Home Care Industry announced the execution of an agreement to provide Accu Care Home Health Services of Rensselaer, NY its software solution. This includes VinCENT's Skilled Nursing Software for Pediatrics and Adult Nursing. Additionally, Accu Care will use VinCENT's Software for their Aide Services and will utilize VinCENT's billing module to directly bill New York State Medicaid, other health insurance plans and private clients.
Accu Care provides skilled and paraprofessional home care services to adult and pediatric clients for a large geographical area surrounding the Capital Region of New York.
The selection of MEDsys as their exclusive software solution was based on a long and extensive search to find the right product that could meet all their company's needs as well as being able to provide customized reporting. MEDsys's VinCENT Software is an industry leading, comprehensive business management solution that automates workflow, integrates critical clinical and client data, HR, payroll and billing information into an intuitive, streamlined system.
Both Mary Pat Hopper RN and JoAnn R. Curry RN, the principles of Accu Care, are looking forward to partnering with MEDsys Software Solutions. "We are very excited that we have finally found a state of the art software product that will save time, integrates all the client, employee and back office information and has customized reporting. As a Licensed Home Health Care Services Agency in New York we have a number of specific needs and MEDsys is the solution that works for us."
According to Ritch Adams, CEO of MEDsys Software Solutions, MEDsys is extremely delighted to partner with Accu Care and its unique needs of their clients. We look forward to helping Accu Care continue to be a leader in patient care by utilizing our unique heritage in home care and providing the state of the art Software Tools to help support their strong belief and proven ability in patient satisfaction."
About MEDsys Software Solutions
Developed by industry experts with over 250 years combined experience, Medsys is the complete agency solution for all business lines in Home Care. MEDsys cloud based software solution with the latest technology offers convenient, real-time data exchange and has the state of the art Point of Care. Our software solution streamlines business operations, increases and measures the quality of care being delivered and in turn drives profitability. MEDsys VinCENT software solutions support Medicare, Medicaid, Skilled and non-skilled Private Duty, Pediatrics and Adult Nursing. VinCENT Electronic Visit Verification is the leading time and attendance product supporting both the home care agency, Managed Care Organizations and State Programs.
MEDsys is the only choice for Home Care Agencies as we offer one software solution that can manage all business lines. We offer powerful tools to automate and mange workflow. Our unique heritage has empowered our software to be personalized for the unique needs of any home care agency. Our exceptional customer service team are experienced in working for Home Care agencies and software companies. Our World Class Support and Dedicated Account Management Team frees up your time as we become an extension of your agency.
About Accu Care Home Health Services, Inc
Accu Care was started in 1985 by JoAnn R. Curry and Mary Pat Hopper, both Registered Professional Nurses with over twenty-five (25) years of nursing experience. Having worked in various aspects of the nursing field throughout their careers, they realize the importance of providing quality nursing care to individuals in a home care setting.
Accu Care Home Health Services philosophy is to have services provided to every client reflect the uppermost aspect of professionalism. This includes confidentiality, respect, compassion, developed skills, punctuality, and proper attire. All of these aspects of professionalism are necessary when providing quality services. This philosophy is conveyed to all employees at the time of hire and are expected to maintain this attitude when providing care to their clients. Accu Care is committed to providing a level of quality of care that encourages the safe and cost-effective delivery of home health services.
Accu Care Home Health Services, Inc. is licensed by New York State Department of Health and is available to serve residents of Albany, Columbia, Greene, Fulton, Montgomery, Rensselaer, Saratoga, Schenectady and Warren counties.