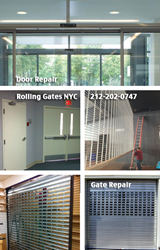 Make The Right Choice - Choose Rolling Gates NYCfor all door and gate repairs.
NYC, NY (PRWEB) June 30, 2014
Rolling Gate NYC, a company that offers rolling gate installation, maintenance, and rolling gate repair NYC service, has recently shared its expert opinion regarding the types of commercial gates and doors available to the customers, and the factors that must be considered before making the choice. The information shared is a part of company's initiative to help its clients improve their security through better decisions.
Two of the main types of doors discussed in this aspect include the typical glass doors and the herculite doors. According to the spokesperson, both are good alternatives for customers who wish to ensure the safety of their shops or offices without altering the aesthetics with the typical grilles or rolling gates. "These are two options for customers who are more concerned with the aesthetic appeal. One of the main factors that differentiate glass doors from the herculite doors is the frame which is completely absent in case of herculite glass doors," the spokesperson explained.
The herculite glass doors are frameless glass doors and may give the illusion of absence of any door at all. In order to prevent injuries and accidents, a strong and durable glass is used. However, customers may also choose to use a tinted or colored glass in order to avoid accidents. Rolling Gate NYC offers complete range of hardware to personalize the glass doors for their clients.
The spokesperson pointed out one major issue when it comes to buying commercial glass doors and said, "One thing that people often ask us is what happens when the glass breaks. First of all, the highest grade unbreakable glass is used for these doors. The chances of anyone breaking in through the glass door are slimmer than that of anyone breaking through the grille and rolling gates."
However, the spokesperson explained that in case of emergency, shop owners or security personals must immediately contact certified and credible door repair company. In order to help such customers in New York city, Rolling Gate NYC provides a round-the-clock repair service throughout the city.
The company works with a team of highly experienced professionals who ensure perfect door repair and the shortest time. To learn more about installing, caring for, or purchasing a grille gate contact Rolling Gates NYC. You may also schedule an appointment with a technician. Visit Rolling Gates NYC web site at Rolling Gate NYC.