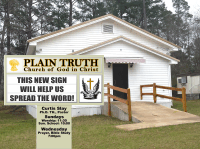 Nonprofits get their own unique webpage for online donations towards a message sign.
Longview, TX (PRWEB) June 10, 2014
Today, Mike Prongue, Campaign Director for SignVine, announced a new online crowdfunding campaign for a new outdoor message sign for Plain Truth Church of God in Christ in Longview, TX. All supporters of this church and their quest for a new changeable message sign are urged to visit their unique website: SignVine.org/plaintruth to read their story, watch their video, and donate.
"A message sign would really help us become visible in our neighborhood and get the message of hope out to our community," Pastor Curtis Slay stated.
"We are a small church organized about 4 years ago in the Longview, TX area. We started this little church in our home and grew to about 24 members," Slay said, "After about 16 months, we were able to find a small building that holds about 100 + people. We are now in the process of remodeling our location so that we can have classrooms for our youth and other departments."
Working with the SignVine Builder, Advantage LED Signs, a proposal was created and the referral to SignVine was made for a basic outdoor message sign.
"Not every message sign project is meant to be dramatic and over-the-top." Prongue said, "This project is appropriate for the needs of the church and should fund fairly easily."
SignVine.org is a specialized crowdfunding website that provides churches, civic groups, and other deserving nonprofit organizations their own unique webpage for fundraising online from the local and national community towards the purchase of an outdoor message sign. The nonprofit can tell their story or cause, show pictures and inspirational videos, and share updates to their online community.
"We are pleased that Plain Truth Church of God In Christ has selected us for an online campaign," Prongue said. "We are confident that Pastor Slay and his team will utilize the community resources to kick this campaign into full gear."
SignVine is a nonprofit organization started by message sign industry professionals with the mission to empower nonprofits by helping them raise money towards an outdoor message sign for outreach in their community. For more information on SignVine, please visit their Website at http://www.signvine.org or call toll-free 844-807-9720, to speak with Mike.